After a week off, Castle returned with "Lucky Stiff,"  an episode that focused on the murder of a lottery winner.
In true Castle fashion, the case had many twists and turns before leading us to the real killer. This is an art the show has perfected, but it didn't excel at keeping the surprises fresh or intriguing this week.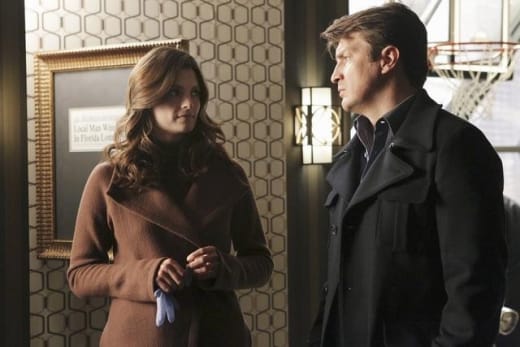 One thing that I have grown to love about Castle is how the cases are exaggerated, keeping fans guessing about what might happen next. Most of the time, the investigation comes together nicely and makes you appreciate all sixty minutes.
But, for some reason, this one didn't really do it for me. I don't know if it was because the real killer kind of came out of left field, or if the people involved weren't really that interesting. By Castle's high standards, I was disappointed.
There was a lack of drama outside of the A story, as well, mostly just with Martha and her inheritance. As much as I love the cases, I like to see the relationships between our characters offer something new on a weekly basis, too.
Granted, the scene with Castle and Beckett discussing the scholarship was really sweet. I hope they actually do hold a benefit and we get to see it. It would be nice to see the characters in a social setting, and I think it could make for a really great showcase for Stana Katic.
On a side note, how great was the club scene, as Beckett caught Castle checking her out?
Overall, not my favorite episode of the season. The humor was taken down a notch, with only a few one liners standing out. What did you think TV Fanatics. Was "Lucky Stiff" up to par? What would you do if you won the lottery?