Who do you trust?
The latest installment of Castle, "The Final Nail,"  offered up this classic question. The case dealt with the murder of Castle's former classmate's wife, causing him to be a suspect and forcing Castle to fight for his pal's innocence.
Beckett said that she had met maybe three people in her life who she knows couldn't be a murder suspect. This got me thinking. No one wants to believe that someone they know could be a murder, but how many people are you positive couldn't be?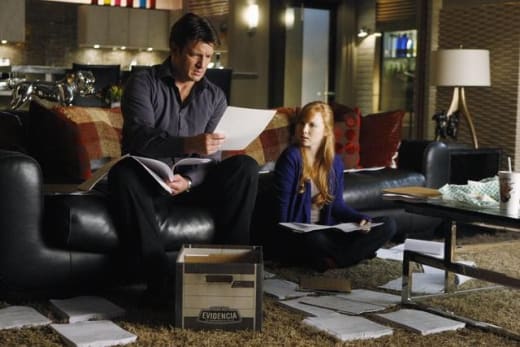 Jason Wiles guest-starred and immediately caused flashbacks for me to his character from Beverly Hills, 90210. That was years ago and he still looks exactly the same. Either this guy ages well or he has a great doctor!
Having someone from Castle's past offered the promise of a great episode, yet somehow I felt a little bored with it. It lacked the funny, which is something I have grown to depend on from the series. It had the usual recipe, but just didn't really live up to expectations.
Still, once again, Nathan Fillion proved why he is such an excellent actor.
We already knew about his comedic timing and heartfelt glances, but the lead went outside his normal routine this week, feeling insecure about what he knew. This man never ceases to amaze me and I often wonder why he isn't a movie star.
Meanwhile, is there anyone else who thinks that Alexis has started to become one of the most useless characters? Being Castle's daughter doesn't give her many possible arcs, but she has seriously been lacking in any story at all. How many lines did she even have in this episode?
Castle has become known for its outlandish cases and great quotes, but there is one thing I love about this show even more. In a few cases, we have been given a two-part episode that pumps up the drama and the stakes. Looking back over the past seasons, these are the episodes I love the most (the 3XK, the arc with Dana Delaney, etc).
With that in mind, tune in next week. Adrian Pasdar will arrive for this season's edition of the special two-parter. I can't wait.