CSI: NY Review: "Party Down"
at . Comments
Meh.
CSI: NY aired an episode this week that was neither the strongest nor weakest of the season. Overall, "Party Down," just barely managed to be a frivolous hour of escape.
The investigation of the party truck driven into the river was okay. It was an intriguing mystery and not easy to solve, but seemed to lack a certain something that would make it extraordinary. There was an emotional element that was missing, making this all procedure, no heart.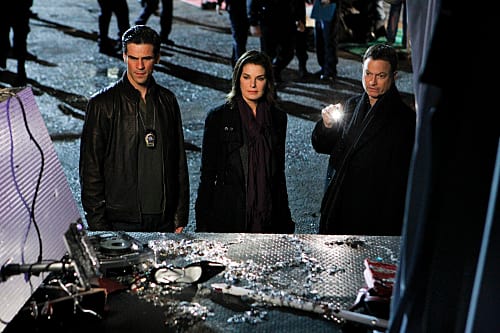 By now, I would have thought that a better balance of emotional storytelling and crime solving would be have been found by such a long-running series. Instead, it seems the equilibrium is still in flux.
A sense of connection to any of the characters was missing. I didn't particularly feel for any of the victims. I certainly did not get a real sense of Carmen Enzo's loss and need for revenge. There also weren't any of the usual bonding moments between the CSIs. Everything that came from the cast was on a superficial and surface level. That's not to say the acting was bad, but perhaps somewhere between the script, the story, and the acting... something got lost.
The one fun moment came when Jo and Flack went to interview the artist who had created the elaborate invitations to the party. The art being painted on a living canvass was truly invigorating.
Mack has told people to stay out of his investigations a few times already this season, and it had been done much better than it was presented here. By the end, with Enzo shooting the man responsible for his daughter's death, it was fairly clear that that was all the character was there for, making the final minutes arbitrary, not shocking.
I know how great this show can be, and I'd hate for it to become something that is just entertaining enough not to change the channel. I want to be immersed, and have my brain challenged. Hopefully, CSI:NY will start to deliver more consistently.