Slower episode of Fringe this week, but let's get started.
I really enjoyed the scene between Nina and Olivia when they were talking about Olivia's feelings after reading Fauxlivia's journal, wondering if Peter was in love with Fauxlivia, and Nina's own regrets that she never truly shared her feelings with William Bell.
Nina has been softening in recent episodes, and she was almost a motherly presence for Olivia, encouraging her to talk to Peter about his feelings, because she can't know how Peter feels unless she asks. Little did we know how "Concentrate and Ask Again" was to progress.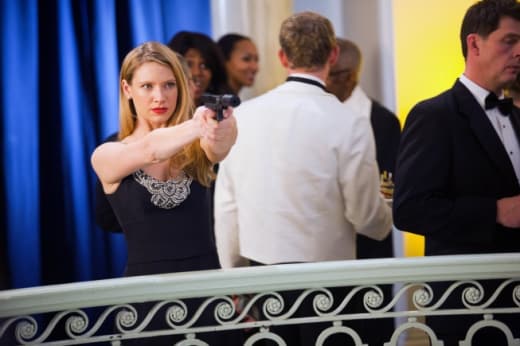 Am I the only one who remembers Massive Dynamic having a way to get thoughts out of the dead as long as their neural activity was still active." Why wouldn't that process also work on the suspect during this episode with the comatose patient?
Instead, Walter engaged Simon (a fellow Cortexiphan experiment subject) who reads any mind within 50 feet of his person. On the bright side, he did get to have a conversation with Olivia, his first real conversation 20 years (because fellow students are sometime immune to each others gifts).
Additionally, it turned out his gift helped in the division in more ways, but first it just struck me as odd that their previous way to communicate with dying brains wasn't a first thought.
While the case of the week took up most of the show, this episode was nowhere near as intense as "Reciprocity" and it was just a little disappointing to go from such tension to lighter fare.
Nonetheless, every time Peter is on the screen, all I can do is try to analyze what he is thinking. I don't trust him. I know he has feelings for both Olivia and Fauxlivia In my opinion, he needs more time with Fauxlivia in her own universe to see if what they had was real.
She was different than Olivia, yes, but also was emulating Olivia. We don't know her at this point any more than we know Peter. They're both wild cards.
It appears that Peter has not been weaponized at all, but that his feelings toward either of the Olivia's hold the key to whether it will be a creative or destructive machine.
I don't understand how that would work, but I'm no scientist. The books of The First People were fake, written by Sam Weiss, previously seen in other episodes such as "Fracture" and "Dream Logic," when he assisted Olivia with the effects of going back and forth through universes.
We never knew before his exact purpose in the show, but now that he has written the books of the First People, we will surely be hearing more of him. He essentially tells Nina that how Peter interacts with the machine is driven by his choice of partner.
If he chooses Olivia, the machine will do one thing; if he chooses Fauxlivia, it will trigger a completely different event.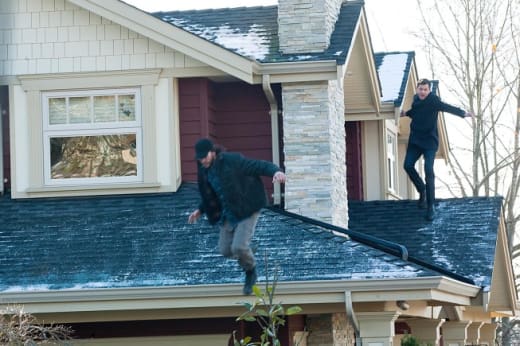 I've been thinking about what could possibly bring Peter back to himself and to us. And one of the first ideas I had was if Olivia and Fauxlivia joined forces in some way to love Peter and stop the destruction of both universes. Could the girls use their shared love of and from Peter to change the fate of the machine?
I have no idea, but it seems as plausible as any other at this point.
When Olivia asks about Peter's feelings for Fauxlivia, he seems to answer her with exasperation. Mild, but apparent. For now, there is nothing he can do to convince her that he thought his love for her brought about changes in her behavior that he appreciated, and he will never understand that by merely telling her he fell for "her" with altered personality traits, he is feeding her belief that he fell in love with Fauxlivia. It's so frustrating to watch, and I cannot even imagine how they are writing the characters motivations at this point.
"Concentrate and Ask Again" did little to drive the overriding story forward, but it did a brilliant job of making me question everything. While undercover, Simon and Olivia were dressed to the nines.
Just after she tells Nina that Fauxlivia is a better her, laughing easily and even wearing a dress now and then, she ends up all dolled up in a gown, her hair gently waved with stunning makeup. Peter finally had a opportunity to see Olivia in a way he never had before.
It could be enough to let him know some of the things he savored in Fauxlivia are just under the surface, awaiting to be uncovered. Unfortunately for Olivia, Simon did hear Peter's thoughts, and shares a simple sentence with her. He still has feelings for Fauxlivia.
Next week takes us back to the other side (finally!). As to whether there will be any crossover of universes at that time, we'll have to wait for the next Fringe Friday to find out.
Carissa Pavlica is the managing editor and a staff writer and critic for TV Fanatic. She's a member of the Critic's Choice Association, enjoys mentoring writers, conversing with cats, and passionately discussing the nuances of television and film with anyone who will listen. Follow her on Twitter and email her here at TV Fanatic.