Royal Pains Review: "A History of Violins"
at . Comments
On "A History of Violins," we got back a crew of former characters that I've been missing.
The first scene of the night brought in huge laughs, as the General got serenaded by Evan.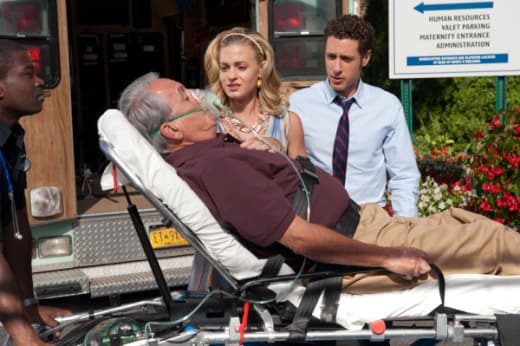 I knew Evan would come back from last week's fight with some kind of grand gesture to apologize to Paige, but I wasn't expecting him to epically fail it! I'd definitely go with the flower shop and use small letters there next time, Evan.
The General is probably one of my favorite reoccurring characters because he really intimidates Evan. Towards the end of the episode, though, you could see these two starting to bond. Could this mean that the General now approves of Evan?
I really do hope this means that Evan and Paige's relationship goes to the next level. I always wanted something to start between Evan and Divya, but that ship has sailed. I am fully on board Team Pavan!
Eddie R. may have been absent last week, but here he makes headway by playing a small role in breaking up Hank and Emily. I know I am not the only one happy to see this relationship meet its doom.
Now that Emily is out of the picture (fingers crossed!), Jill should regain her Hank territory. These two are just destined to be together. Why fight fate?
Last but very not least, Adam made a cameo! Divya got word that something may be wrong with him and the first thing she did was run back to him to check and see how he is. She even wanted to see if she was a match for him. These actions showed us clearly that Divya has strong feelings for Adam.
Hopefully, her feelings for Adam will make her realize that going forward by marrying Roj is a mistake. What's Royal Pains without Divya? Exactly. She can't leave for good.
The side story was another medical mystery that Hank was able to figure out within forty something minutes. Who knew you could get anthrax by being around infected hide? At least we all know the warning symptoms now.
No new news on Boris and Marissa's pregnancy, but we can't have it all, can we?