Skins took an interesting turn this week.

While nowhere near phenomenal, I actually was interested in the character of Chris. I actually felt sorry for him, as this is a teenager missing someone to care about him.
Sure, Chris has his friends, but he never really reveals anything about himself personally. He simply remains the wild party animal jokester. Besides, most of of his pals have their own issues with which to deal.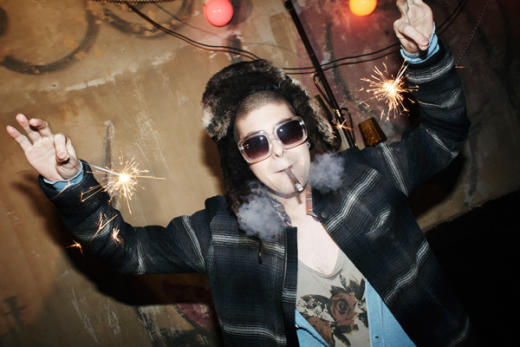 Chris has a mother, but she's left him all alone, with only a thousand dollars in his pocket. Of course he's going to find outlets in things like alcohol and drugs when he doesn't have someone to watch over him and help him grow up.
He also has a father, who seems well off, but refuses to want to help Chris or even see him. I thought parents were supposed to want to help their children. Guess not every family is the perfect family.
Watching Chris sit uncomfortably in his father's home, only to sprint away from the house because he recognized that nobody wanted to care for him, had me wishing I could do something to help.
The only person who truly cared about Chris was his older brother, Peter. In a believably emotional conversation with Daisy, Chris revealed the greatest moment in his life: when Chris embarrassed himself by peeing his pants at camp, it was Peter who cleaned him up and gave him his own pants to use. It was the one time in his life when he had someone there to help him. The moment took another turn when Chris revealed that Peter was dead.
All the people that should care for Chris have abandoned him, and the one person who did love him is gone.
Sure, the episode had the controversial erection moments and naked Chris, but there was nothing pornographic about it. That wasn't the real point of the hour.
What's worse than Chris having no money, no home, and no parents, was that he believed it was all his fault. If anything, this episode showed the importance of parents or a family that cares. Parental guidance, not parental overkill, is a good thing. It helps teenagers grow up and learn in the best way possible. Without parents who are there, kids are left to make decisions all for themselves or find outlets in the wrong locations.
I know that not every kid falls under the categories portrayed on Skins. However, some of these problems do exist with teenagers and families. They're out there, but they are not always the topic most people want to talk about.
I hope the next episode follows in the same design of showing the vulnerabilities and struggles of a character. That's what can truly make a television show interesting and entertaining to watch.
Sean McKenna is a TV Fanatic Staff Writer. Follow him on Twitter.