Clark, you are the light.
How ironic that an episode titled after a shining light of hope was mostly such a dark episode…especially that last scene.
I was initially bothered that, yet again, the whole Darkseid saga that has been awfully hit or miss this season was absent. The episode was so good, however, that I can't help but overlook the lack of movement on that front. 
A major highlight of "Beacon" for me was Lucas Grabeel's performance as a young adult Alexander. I didn't expect anyone could do such justice to Michael Rosenbaum's legacy, but Grabeel had the just the right levels of menace and anger, making me almost forget for a second there was ever another Lex.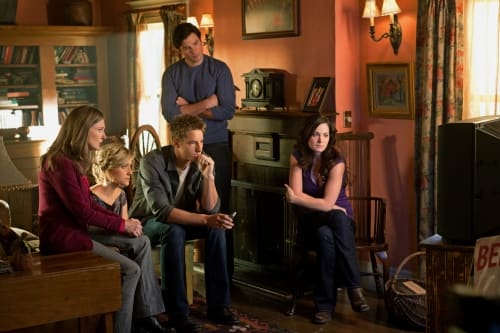 It's a shame that he's so young. He's a perfect fit as Lex, yet I can't imagine the writers would end the season without a fully adult Lex in some form. Since reports continue to suggest Rosenbaum has no intention of returning, I wonder if there's any way they can pull old footage of him or use CGI in some way. It would be tragic not to see the original Lex make one final appearance, especially now that it seems Lex is as invulnerable as Clark.
Was anyone else getting an intense Darth Vader vibe from Lionel's speech to Alexander about embracing and using the hate and anger inside of him to make him stronger? I half expected Alexander to whip out a lightsaber at one point.
The confrontation between Tess and Lionel, although brief, was another great moment for me, mostly because it was the first time the two have ever been on screen together. Despite her attempt to kill Alexander, which obviously was intended to be a mercy killing, I was relieved to see Tess stick by Clark's side rather than make a misguided attempt to try to seek acceptance from the father that abandoned her. I particularly appreciated how Tess cited Clark as the turning point in her life, which I think is overall kind of the point of the whole episode.  
Sometimes I think Clark desperately needs some sort of cosmic prozac, because he always tends to navigate toward the negative, which is odd because I thought that was more Bruce Wayne's modus operandi. Martha tried her best to build up Clark's confidence, and Lois and Chloe each expressed concerns to Martha about Clark needing to find inspiration. In the wake of the VRA, Clark has seemed to not necessarily give up all hope, but to somehow fear the future with a certain level of bleakness. 
Basically, he lost his faith in the people who look to him with the same, and he was as much in need of a beacon of hope as they need him to be one.
As evidenced by the video montage that Lois and Chloe put together for him, Tess is only one of thousands who derive inspiration from Clark. It was kind of touching to see all those people leaving those video messages, and to see Clark's reaction to the outpouring, especially considering they were actual viewers enlisted to participate in this episode. Even though these messages were intended for the Blur, they were, for all intents and purposes, a sampling of the appreciation the audience has for the writers and producers for leaving us so many wonderful memories of the last ten years.
My favorite moment was the conversation between Martha and Clark at the end where he spoke about the suit and having seen the future and his alter-ego, most of all when Martha spoke the line I began this review with: "Clark, you are the light."
We're getting so close I can almost taste it. If "Beacon" is any indication of how the remainder of this final season will play out, we're in for one satisfying ride.  
Jeffrey Kirkpatrick is a TV Fanatic Staff Writer. Follow him on Twitter.