Barack Obama, you've been served by The Good Wife!
Not really, of course. But I loved seeing Wendy Scott-Carr do more than merely cite a line the then-candidate used in a campaign speech. She actually took issue with its message, which was represented in the title of this week's episode, "Silly Season." It's not so silly when you're family is under attack, is it?
The reference to Obama - and Bill Ayers, catch that? - was yet another example of what helps this show hit the realistic mark on a weekly basis. The characters talk like people in their positions actually talk, something that sounds basic, yet something at which most shows fail miserably. Never underestimate the power of believable dialogue.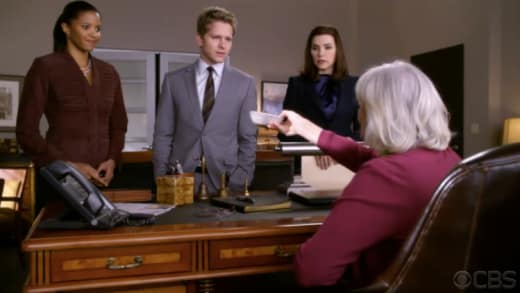 We had many examples of it throughout this episode.
The most enjoyable scenes didn't involve action sequences and didn't need any score to emphasize their importance. There was simply Wendy sitting across from Alicia, talking (threatening, really) mother-to-mother. There was Cary confronting Blake, a great exchange between two arrogant individuals who had never met before. It oozed with tension.
Cary, of course, was the MVP of the hour.
With apologies to Damon Salvatore, he may now be my favorite character on TV. Played brilliantly by Matt Czuchry - with just the right combination of swagger, self-confident and the occasional vulnerability - he's epitomizes what The Good Wife does so well: portray layered characters who excel at their jobs and reside permanently in the grey.
He's got awesome friends, too! How entertaining of an impact did Tim Guinee make as Andrew Wiley?!? The show didn't need to go to as many lengths as it did to show him juggling life as a stay-at-home father and a PI, but he'll make a welcome addition as an investigator who couldn't be more different than Blake and Kalinda.
Once again, the feud between these two was my only problem with the episode. There's already enough going on with The Good Wife, all of which - from marital problems to campaign finance issues to corporate mergers/schemes - comes across as realistic. But Kalinda and Blake veer into soap opera territory when storylines such as the former's past identity come up.
I don't really care. I had no problem with Kalinda simply being mysterious and closed off, although at least the final scene between the pair was saved when Blake, hilariously and cryptically, started to whistle "Oh Canada."
Other highlights from another solid installment: Eli smacking down Becca; Alicia subtly agreeing to let Peter back in the bedroom; the amused (and then reasonable) reaction of Geneva to the "N word" discussion, a topic handled so intelligently and deftly; the mere presence of Titus Welliver, dyed hair and all.
What did everyone else think?
Matt Richenthal is the Editor in Chief of TV Fanatic. Follow him on Twitter and on Google+.