From the topic of illegal aliens, to accusations that the Tea Party is racist, to jokes about Sarah Palin in 2012 and a question I never expected to hear on primetime television (Why do you hate Jesus?), "Silver Bullet" was another strong, mature, intelligent episode of The Good Wife.
It's possible I've written that before.
But it continues to be true week after week. As usual, we were thrust right into a story on this episode; no time wasted, no scene set, simply a shot of Diane at work, drilling her underlings (a bit too hard for Will's taste) and focused on the task at hand...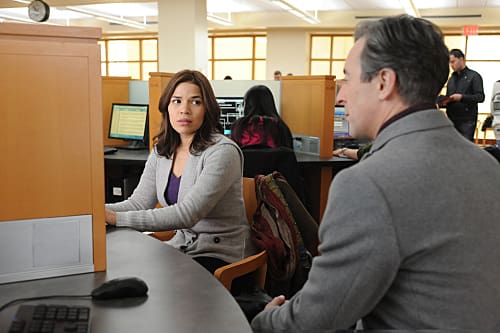 ... until a tall, gun-loving drink of water named Kurt McVeigh strolled back into her life.
Played perfectly by Gary Cole, McVeigh serves as the ideal love interest for Diane. We know very little about this partner outside of work, making her school girl-like crush on this Tea Partier a joy to watch. I smiled at her initial reaction when seeing Kurt in the office, and then laughed out loud when she realized he had not yet signed the retainer, meaning she could "depose" her would-be client one more time - if you know what I mean!
Just a great showcase all around for Christine Baranski, who got to bare her claws in court when she wasn't baring it all in Kurt's gun room.
Overall, the episode dedicated time to characters typically on the periphery. Eli's debate over Natalie (another great casting choice, America Ferrera) was simply fascinating to watch. This is the first time any kind of vulnerability has shown through for a man who had no problem taunting a teenager (Becca) over her sexual history.
But Eli is also a man who thinks six steps ahead and is paid to consider various road blocks to the campaign. How did he react when met with someone he never saw coming, a stock-trading, graduate degree-earning, beautiful illegal alien? Not well. Antithetical to his professional cause, in fact.
Great work here by Alan Cumming. He plays flustered as well as he plays cocksure.
And, finally, we get to Grace. I can't say I care much about the Florrick children. There's typically so much going on in the office that too much time spent at home feels like a waste. But it was both hilarious and realistic to watch Alicia down her wine as Grace rambled on about Jesus. How many shows would actually go here? How many shows could handle religion in such a delicate manner, paying respect to the concept while also having its main character scoff at it?
As I've said for weeks now, I wish we'd be done with the mystery of Kalinda's past; and, for once, I wasn't a fan of the quirky judge (falling asleep on the bench? Really?!?). But those are small complaints for an episode that brought back an interesting recurring character, gave two key players a couple major dilemmas and also concluded with a major tease for next week:
The meeting of the equity partners? It is so on.
Matt Richenthal is the Editor in Chief of TV Fanatic. Follow him on Twitter and on Google+.