As Steve Carrell's final season on The Office continues, he stepped back into the main storyline on "The Search." It made me very happy.
But as much as the installment made me laugh, it also made it clear that it's the show's ability to go sweet and sentimental that makes it so great.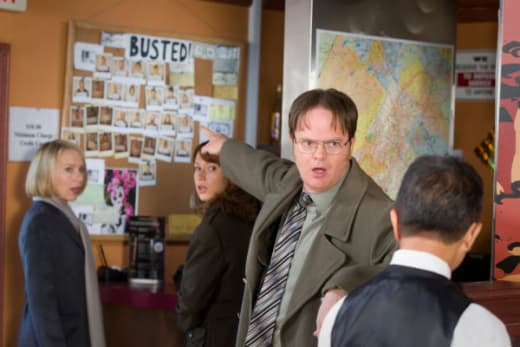 Indeed, the heartfelt moment between Michael Gary Scott and Holly Flax on a rooftop in downtown Scranton highlighted the action of "The Search." The attraction between these two is so great, and it is played so well on a weekly basis Carrell and Amy Ryan, that it's imposible not root for these two kids to make it by season's end.
The way we got to the emotional climax - Holly accepting Michael's query of whether or not he could kiss her - was
The Office
at its best.  The hunting party of Dwight, Holly and Erin worked incredibly well together, each bringing something different to the mission.
First, you had Holly in a daze, wandering around, copying Michael's every move. Then, there was Erin hating everything about Holly, which never gets old.  And finally there was Dwight, who, when not imagining he was in a submarine, was the first to figure out Holly was subconsciously leading the group straight to Michael.
Back at Dunder Mifflin, we got to witness the utter humiliation of Gabe.  It doesn't get much better than that.  Gabe is so much worse than Toby ever was.  It was fun to hate on Toby because Michael couldn't stand him, but with Gabe, EVERYONE can't stand him. It's great.
I definitely laughed out loud at a number of the quips the Dunder Mifflin employees came up with for Pam's doodle, but it was Oscar who stood out. From him explaining to Ryan that all of the gays are okay with him getting married, to telling Gabe that his caption was out of line, Oscar is quickly emerging as my favorite background character this season.
Below, I leave you with a few of the funniest The Office quotes from a fun, romantic half hour:
Dwight: I can think like Michael. Alright, I'm deep below the ocean's surface in a submarine. A torpedo is coming right at me...No! Damn it! That's just my own imagination. | permalink
Dwight: You drive. I got a car full of fox meat. | permalink
Erin: Her personality is like a three. Her sense of humor is a two. Her ears are like a seven, and a four. Add it all up and what do you get? 16. And he treats her like she's a perfect forty. | permalink
Pam: Got it. I will put out an A.P.B. Otherwise known as an Ask Pam Beasley...Did the phone cut out?
Jim: Nope. | permalink
Michael: Why does the Sun rise in the morning? Why do magnets stick together? Because everybody says so. Everybody. | permalink
Dan Forcella is a TV Fanatic Staff Writer. Follow him on Twitter.