Booth and Brennan recaptured the magic, at least in part, during last week's Bones. But as their romantic journey continues, is another couple's future in peril?
When last the series checked in on Sweets and Daisy, the baby-faced shrink had gone ring shopping only to get cold feet (Booth's own proposal went haywire).
Does John Francis Daley (Sweets) see his character getting down on one knee again? Or will factors beyond his control mean the end of his relationship?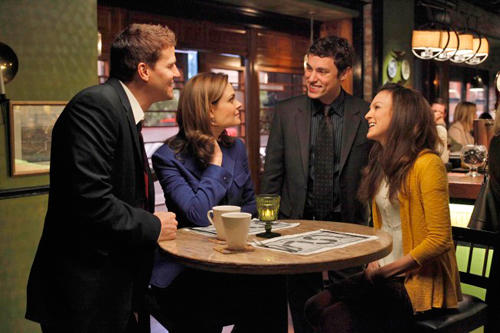 "Sweets was sort of scared into [realizing] that rushing into marriage so quickly might not necessarily be the best idea for a young man such as himself," Daley told TV Line.
"So I think he's taking a little bit of time ... You know, playing the field."
Daley claims that as far as he knows, the state of the Sweets/Daisy romance is "up in the air," yet he suggests that his alter ego "could very well" pop the question anew.
Of course, there's the small matter of Carla Gallo's future on the show ...
On the heels of filming roles for a Cameron Crowe movie (We Bought a Zoo) and a pilot (The CW's Danni Lowinski), she will be returning as Daisy towards season's end.
But for what exact purpose? A last hurrah?
"I would like a proposal. I'm hoping for a proposal, but I don't know," Gallo says, but seeing how the first one went, "I feel like maybe a girl doesn't get a second proposal."
There have been rumors that the sniper will fell one or more characters this season, and with Gallo potentially starring in her own series, Daisy seems a prime candidate.
Stay tuned ...
Steve Marsi is the Managing Editor of TV Fanatic. Follow him on Google+ or email him here.