Last night on the Jersey Shore, Sammi's return to the shore house left Ronnie at a loss for words, and I felt for the guy. There are no words to describe that pain.
Not that he's without blame for all that happened too, of course. That roid-raging maniac was borderline abusive to her. Let's just say a breakup would've been fine.
Alas, she's back, but on the plus side, there were no fights this week that lived up to their epic standards. Can they coexist as single people ... OR as a couple?
Just give it an episode or two and we'll surely find out.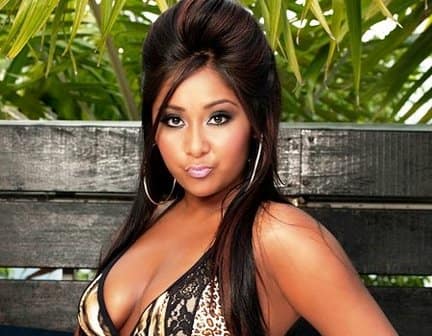 Meanwhile, Snooki's feelings for Vinny continue to deepen. So much so that Snooki tells Vinny not to bring any girls home from the club so the pair can cuddle.
Of course, when he does bring home a hot Dominican girl, she just feels stupid. Vinny wonders why she gets with guys and he's not allowed to do the reverse.
It's a fair question. Luckily, they do make amends at the end. Elsewhere, an article of clothing was determined to have been the cause of the plumbing woes.
Perhaps most significantly, The Situation confessed that a girl he hooked up with smelled like cheese. Little did the prankster know he'd just gotten served.
We have to hand it to Ron, Sam and Snook for pulling that one over on him. Sometimes you gotta give the guy a taste of his own, pungent medicine, right?
Not the funniest episode ever, but far from the worst. It is what it is at this point. Now, follow the jump for some of the episode's top Jersey Shore quotes ...
Vinny: Are you fully gay?
Girl: No.
Vinny: Awesome. | permalink
Snooki: I can have a good time without drinking, f*%k you alcohol. | permalink
Pauly: Deena's out of control! I just spilled my coffee and I don't even drink coffee. | permalink
Vinny: Snooki wants to have sex with me, meanwhile she gets with a kid the night before .. get the hell outta here. | permalink
Ronnie: I'm done you're done we're done I'm done you're done, done done done. Like, I don't even know at this point! | permalink
Vinny: Dominican girls are hot 'cause they can dance, they can move, they got tans, they got big butts, nice full lips, they got that flavor an Italian guy needs. | permalink
Sammi: Nicole and Vinny have some sexual tension they need to talk about, 'cause it could be dangerous to the house. | permalink
Snooki: I definitely want to try again with Vinny, I actually named his penis Moby Dick. | permalink
Deena: Hestatic is when you're super happy and like really happy. | permalink
Ronnie: I was just starting to find myself and then [Sammi] walked through the door and I was like FML. | permalink
Steve Marsi is the Managing Editor of TV Fanatic. Follow him on Google+ or email him here.