This was not among the more entertaining Jersey Shore episodes of all time, but it had its moments. Unfortunately, Sammi and Ronnie drama was still the focal point.
"A House Divided" against himself cannot stand. So Abraham Lincoln said in 1858. In 2011, Jersey Shore proved that a house divided cannot stand these two losers.
The primary issue that we - and the cast members themselves - have is that it's very hard to defend Ronnie Magro. Or a girl who willingly opts to date Ronnie Magro.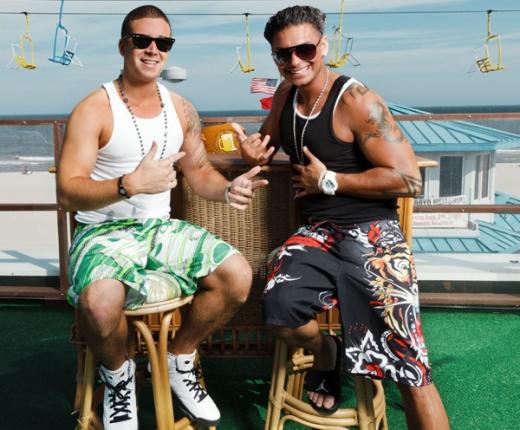 Grenades come and go, but Vinny and Pauly's bromance is forever.
Don't ask us why Ronnie can't comprehend that Sammi would text another guy after they broke up, seeing as he blatantly cheated on her and borderline abused her before.
Then again, she did basically lie about it, which cost her some sympathy and just makes her lose credibility. She would have been better off playing the "we broke up" card.
Whatever. The highlights of the episode came from Vinny and Pauly D and their (mostly failed) efforts to act cool and/or "get it in." Pauly's stalker Danielle even returned.
Mostly, though, it was all about the warring couple, with the Snitchuation trying to stir the pot and the rest of the gang arguing over where they stand with recent events.
In short, not the show's most compelling. Too much attention to the worst people, and too little of the atomic arguments or LOL moments that make it a breakout hit.
There were some quality Jersey Shore quotes, however. Here's our list ...
Pauly D: They already neutraled that ... I say they start with a zero-zero, because he admitted his wrongs to that. This girl is still never admitting. She leaves the house for one day and hits this guy. I don't like that. | permalink
Danielle: You want me to punch you?
Pauly D: Do whatever you gotta do. | permalink
Grenade: I know I'm a grenade, but you guys are fine as hell.
Pauly D: This woman is not a grenade. This woman is an atomic bomb about to blow. | permalink
Deena: Let's be real. You didn't come here for pastries and like, coffee, you came here to do sex with Pauly and Vinny. You embarrassed yourself. | permalink
Erin: I just want to say ...
Deena: I think it's better if you don't say anything. | permalink
JWoww: Can you guys like, maybe neutral it? Because, like, you hit up a girl in Miami? | permalink
Snooki: We're in Seaside. Leave us alone. | permalink
Situation: Wow. Ronnie's mom's gangsta. | permalink
Situation: He orders her roses, and then she texts this kid. The principle that she ... the intention ... and that intention, once you cross that line, that intention line, it's horrible. it's not good. You do not let a girl do this to you. | permalink
Situation: It just so happens that Deena defies the laws of intelligence. I never thought someone would make Snooki look like a rocket scientist. | permalink
Ronnie: You're embarrassing me. You're embarrassing yourself ... Stop, because I will yank the phone right out of the wall and you won't be able to get in touch with me. | permalink
Ronnie: Now I know how she felt in Miami. Well, not really, but I got a taste of how she felt in Miami. | permalink
Ronnie: What do you think is going through my head as soon as I find out that the kid is there to meet you? | permalink
Ronnie: Have you ever hooked up with Sam?
Arvin: No, not like that.
Ronnie: You never made out with Sam?
Arvin: Yeah, we have. | permalink
Sammi: There's things I have said that I'm not proud of, you know that, right?
Ronnie: Can I have a little mustard? | permalink
Sammi: I'm sorry. I feel stupid. I'm mean. Here, I'm mean. I'm sorry. | permalink
Sammi: [on why she was texting Arvin] Maybe to cause a rise out of you. To get you back. To be spiteful. | permalink
Ron's Mom: I'm tan. I am tan. So tan I look Indian.
Deena: That's awesome. | permalink
Steve Marsi is the Managing Editor of TV Fanatic. Follow him on Google+ or email him here.