When everyone else runs away from gunfire, cops run toward it. That thought sunk in as I watched the terrified employees scamper screaming from the building, while Lydia and Josie steadily inched their way closer to a madman.
When Southland opened with the explanation of a "Failure Drill," I knew someone would be taking that head shot by the end of the episode. The intensity of that entire scene had me sitting on the edge of my seat.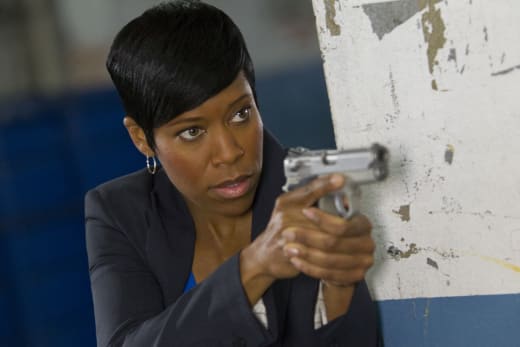 Where Lydia excelled, John was failing. He started off the day with the local drug dealer wishing him well because he's one of his best customers. If that didn't tell him how far he'd fallen, I don't know what would. John took too many pills, slept in the patrol car and it was sheer luck that he and Ben both survived the day.
In a scene both hysterical and frightening, Ben tried to run the community meeting. Seeing him helplessly flounder through the presentation was funny. He looked so awkward holding that silly looking doll. But it was scary to think that all of those parents were there hoping to better protect their children. John may have thought this was the safest way to spend the day, but not if you're a small child in a car accident with a faulty car seat.
By the end of the day, Ben stepped up. He'd had enough and told John just that, face to face, man to man. Did it do any good? It didn't seem to get through, but we'll see what happens next week. My guess is that John's downward spiral isn't over.
Thankfully, it looked like Sammy was finally pulling it together. The look on his face when his soon to be ex showed up during his investigation was priceless. She put a find my friend app on his phone and he never knew it. I'm sure all the gang bangers in the city would love to know that. I was pleasantly surprised when Sammy held it together back at his former home.
Tammy's lover wouldn't leave them to have a private conversation. Instead of yelling at the man, Sammy simply had him help move the swing set. Perhaps Sammy will inch his way towards adulthood before his baby arrives.
Why does Lydia's one serious love interest have to be Josie's son? And just when these two were starting to mesh as partners. Of course he had to be nice and funny and he really liked her. This poor woman can't catch a break.
Next week is it, folks. It's the season finale and anything can happen to our Southland crew. I can't wait to see what's next. 
C. Orlando is a TV Fanatic Staff Writer. Follow her on Twitter.