Chubbs: It's all in the hips.  It's all in the hips.  It's all in the hips.  It's all in the hips.
Happy Gilmore: Get off me!
One of the best quotes from one of the best movies, Happy Gilmore, is a perfect summation of what was biggest factor in the finish of this week's episode of The Amazing Race: Unfinished Business.  Christina noted it herself as well, indicating that the racers, who got the hips correct the first time, finished the task first.  Those who didn't, such as herself, came dangerously close to elimination.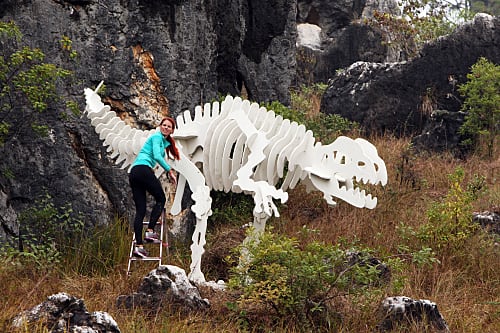 Now in the 18th season of The Amazing Race, I continued to be shocked by team's complete lack of attention to detail.  To that end, give credit to Jet who was calm throughout the Roadblock and took the time to check the picture multiple times to make sure he had his dilophosaurus model assembled correctly.  What amazes me most is that after watching Jet get to the Detour in fifth and be the first team to complete the challenge, no one else thought to check the diagram more often.
Well, that's not entirely true.  Kent checked it multiple times and still couldn't figure out what he did wrong.  Fortunately for him, he and Vyxsin arrived at the Roadblock fairly early and had a large enough lead to withstand a) his mistakes with constructing the dinosaur replica and b) the 30 minute time penalty they had incurred from the previous leg.  Surprisingly, they only fell one spot, from fourth to fifth, at check in because of the penalty.  Unlike recent legs, the teams' arrival was not as bunched as we're used to.
Jaime and Cara probably did not understand why Kent and Vyxsin U-Turned them when the teams were in 3rd and 4th place, respectively, and not a seemingly more formidable team, but Vyxsin's logic behind the move made a lot of sense.  They had no idea they had gained so much ground due to Ron and Christina's error (more on that later), but knew they had 30 minutes to make up on at least one team and had at least one team behind them.  What other move did they have?
The language barrier has always been an issue for Amazing Race contestants, particularly when they visit Far East countries.  Ron and Christina speaking Chinese fluently is a huge advantage.  However, teams have been racing in Far East countries for many years now and managed to survive without speaking a lick of Chinese.  Many teams did it just last night.  So why are Zev and Justin and Kisha and Jen blindly following Ron and Christina?
No matter how well Ron and Christina can communicate to their taxi cab driver where they want to go, the driver still has to know how to get there.  In the case of racing to the U-Turn, he didn't and all three teams got burned.  Give Kisha and Jen credit, after that one blunder, they left the three team carpool and flourished without Ron and Christina.  Justin was too paranoid to go it on his own and was almost eliminated because of it.
There is some merit to simply being around other teams early in the race. Often it seems the teams that get eliminated early do so because they get lost or make a non-challenge based mistake that dooms them.  However, eventually a team needs to work by itself to win the race.  Besides, it's far more interesting when you have teams by themselves instead of in a car pool.
Overall this leg was another tremendous hour of television in what has been a great season.  The apparent removal of non-elimination legs and replacement with double-legs is a tremendous improvement.  Additionally, the race designers have clearly made a concerted effort to make this a more challenging race versus the previous 17 seasons.  The challenges are hard, the teams are bouncing all over the place, and everything's been wonderful to watch.
Beyond the race itself, the racers have really delivered.  Most of the teams have been super competitive with very few teams leading the race for the entire leg or trailing the race for the entire leg.  This element of change to the order of the teams makes for a far more interesting race.  Knowing that all of the teams are competent gives the sense that any last place team can dig itself out.  I wasn't worried at all about Flight Time and Big Easy trailing early in the leg and they proved me right.
More from this episode:
It was great to hear the return of Jet and Cord's music when Jet completed the Roadblock.  After a rocky start, hopefully they're finding their stride.
A very impressive effort by Jaime and Cara and Flight Time and Big Easy rallying from the double U-Turn.  If only Jaime had figured out the hip issue earlier.
Where are Flight Time and Big Easy keeping the basketball they bring around with them?  Have you ever tried to put a basketball in a bag? It takes up a lot of space.  Thankfully they did because it gave us an awesome scene with the teams playing basketball this week.  I wish we had time for more scenes with the racers blowing off steam.
I agree with Kent's strategy not to tell the other teams about their time penalty.  I'm not sure if teams would or would not have U-Turned them if they knew, but why give anyone incentive to knock you out?