Cho was in charge, Jane was set loose in a hospital, and La Roche filled in for Hightower as The Mentalist continued to shake things up this season.
"Bloodstream" gave us a kinder, gentler La Roche and it was nothing short of unnerving. Every time I saw the man this week, I pictured a little white dog under his arm. The show should be commended for giving such a creepy character so many layers. La Roche had always been fascinating as a villain, but giving him added dimension has made him human and even more interesting. I just hope we never lose that intense pitbull quality I've loved from the start.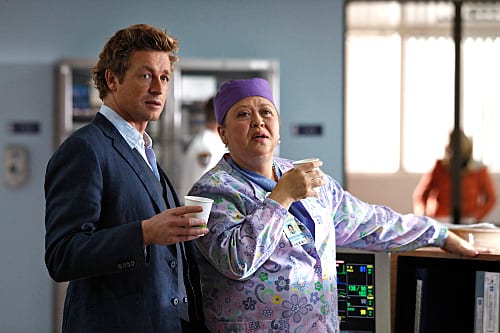 I enjoyed Cho being put in charge of the team. He was so no-nonsense about it. His first loyalty was to Lisbon, but if this was now his team, he was going to lead it. Cho's deadpan delivery and take charge attitude have been a highlight every week. I was glad he got to play more of a role here and wouldn't mind seeing it again down the line.
I don't know which part I enjoyed more: Jane running loose in the hospital or Lisbon's glee at not being responsible for his actions.
My boss is Agent Kimball Cho. I can give you his phone number.
For once she got to sit back, watch Jane's antics and send the complaints to someone else.
And Jane's mini tirade on the "kangaroo court" hospital system was one of the
funniest lines
all night.
Would a wallaby be more judicious?
And Jane with the Russian crime lord was equally hilarious. From explaining that his badge was actually only a laminate to citing all of the reasons why he knew the man was a Russian crime boss, I couldn't get enough of Jane on this installment.
When Lisbon entered the room and announced she was with the CBI I kept waiting for one of the Russians to ask "With who?" Maybe folks in California know what the CBI is but it still strikes me as odd each time I hear it and I've watched the show all three seasons.
As usual, Jane was smart. He wanted to know what was going on with the doctors, so he went straight for the nurses and it was fun to see him gossiping like one of the ladies. He fit right in.
My favorite scene was the one between Lisbon and La Roche toward the end. Lisbon gave Cho full credit for cracking the blackmarket radiation case. She proved what a strong leader she was by acknowledging the strengths of her team. Then, when La Roche put her back in charge, he admitted he was messing with her but he will not be disrespected.
With his mix of being almost scary smart with an undercurrent of strange humor, I hope we get to see more of Agent La Roche and his interactions with the CBI team.
C. Orlando is a TV Fanatic Staff Writer. Follow her on Twitter.