In one of its most entertaining episodes yet, Body of Proof brought Megan's demons back into play. 
The episode title, "Dead Man Walking," could be taken quite literally as patients left the hospital after surgery having no idea that they were internally bleeding to death.
Since Megan was once the cause of the death of a patient, she took the hunt for the killer personally. It didn't seem to matter if it was murder or malpractice, Megan was determined to find the truth.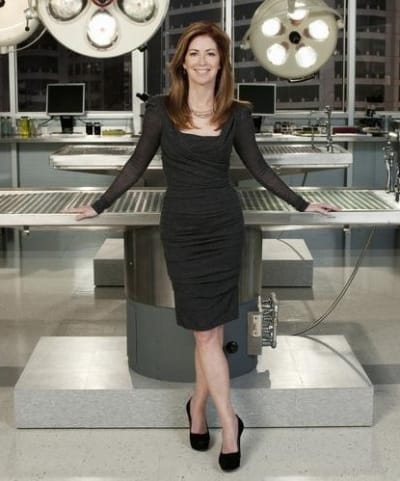 Having the case visit her old hospital was a great way to visit Megan's past. "You'd be amazed how many Christmas cards stop coming once you've killed a patient on the operating table."
When Megan performed emergency surgery on the kitchen floor to save George White, it gave me the shivers. Was that a butter or a steak knife? Either way I think I'd invest in a new set of utensils after that. 
I loved Megan's admission to Peter that she was ill her first time in an O.R. It's certainly something you would only admit to a friend and it showed her concern for Peter as well as the patient in the midst of a high stress moment.
The last scene was great. Megan knew the one thing she could do that would get that arrogant surgeon's attention. The one thing that got him to pause when even speaking about his patient's death didn't slow him down. She sat on his Porsche. 
Again, I missed Detective Morris this week but Ethan and Curtis made up for it. This partnership just keeps getting better and the visual of the two of them in bio-hazard suits was so comical. I look forward to more of these two as the show continues.
Has anyone else noticed how Megan continues to push Curtis to be better and he always steps up and does just that?  Again, it's the character interaction that sells this show.
It was lovely to see Christina Hendricks in the role of Karen Archer. She and real life husband Geoffrey Arend had a sweet sort of chemistry. It would be wonderful to see her back on the show again.  Perhaps Ethan and Karen's relationship could continue.
I was happy to see Kate play a bigger role this week. It's always fun to see the entire staff working as a team and we had more of that this week than we've had in the past.  
Glad to see this procedural hitting its stride with great character interaction and compelling story lines. How are you liking Body of Proof so far?
C. Orlando is a TV Fanatic Staff Writer. Follow her on Twitter.