Can you piece together a person's life when you can't even locate their head? "Talking Heads" had Megan and her team sifting through body parts as they tried to puzzle together their victim's story.
Body of Proof has begun to convince me that autopsies are fascinating. Could the careful examination of a human body really tell you that much about a human life?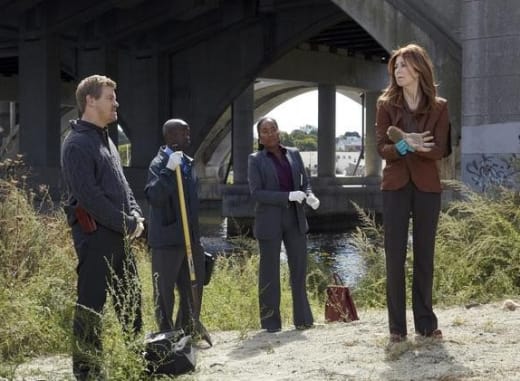 Plenty of other shows portray autopsies (CSI, Bones) but Megan Hunt exhibits such awe as she performs one that I find myself compelled to watch the results. It also helps that I'm not turning my head trying to avoid the grotesque images that frequently accompany the other shows.
I missed Detective Morris this week. The show lacked his sarcastic wit and his banter with Megan. We're just a few episodes into this show and I've already been enjoying their chemistry.
I know that Callum owed them money but could the victim's son-in-law have exuded any more venom? Talk about strained family ties. No wonder he dropped out of their lives after borrowing the money and was willing to give his daughter $25,000 to get out of that marriage. 
When Irina described cutting up Callum's body it was with an eerie coldness. She liked the man and he cared for her. Yet, once dead he was no longer an asset to her but a problem that needed to be disposed of, literally. I could only imagine the parts of yourself you'd have to shut down to be able to take a hacksaw to someone you were fond of.
I'm not sure who was more disturbing, Irina or the landlord who swung a hammer at the man's head and then went on with his day as though nothing had occurred. 
When Megan told her team to "hide the gory stuff" from Lacey I had to laugh. That's a little hard to accomplish in a morgue. Seeing the gory stuff was why the twelve year old was there.
I liked the scene where Megan showed Lacey the picture of the hand, then went on to describe who that man was, driving home the point that these were people, not just bodies.
When Megan shared her reverence for her work, it brought she and Lacey closer together than anything else could have, even with minimal gore. 
The quote over the door stated, "This is where death rejoices to teach the living."
Perhaps it's also teaching Megan how to rebuild what's important in her life.
C. Orlando is a TV Fanatic Staff Writer. Follow her on Twitter.