As we know, the Thursday, May 5 episode of Grey's Anatomy will feature Callie and Arizona's wedding. It should be a magical affair ... but where are Mer and Der?
The rumored absence of the show's golden couple from Calzona's big day has already sparked rumors of a double wedding. Now comes this straight from ABC.
Here's the network's synopsis of the episode, "White Wedding":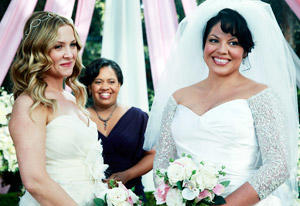 "As Callie and Arizona's wedding approaches, the couple quickly realize that the day they've been looking forward to is not turning out the way they'd envisioned."
"Meanwhile Alex continues to make the other residents jealous as he appears to be the top contender for Chief Resident, Meredith and Derek make a decision that changes their lives forever, and Dr. Perkins presents Teddy with a very tempting proposition."
What do you make of these hints? Tell us below!
Steve Marsi is the Managing Editor of TV Fanatic. Follow him on Google+ or email him here.