I had to chuckle when Stern said "A new, new day. Sounds like you have one of those every few months." That statement seems the slightest bit meta, since The Good Wife manages to tout game changing events on a semi-regular basis.
Louis Canning's arrival as the successor to Stern's firm, during "Wrongful Termination," would have had more impact had it not been revealed in the previews, but every time Canning is around there are surefire antics to be had. This time was no different. I honestly didn't care that much about the trial itself, that of a large corporation guilty of trying to induce employees to voluntarily leave in order to fleece the pension fund, because I was more interested in the fluctuations that the death of Jonas Stern caused in the attitudes and thinking of those affected.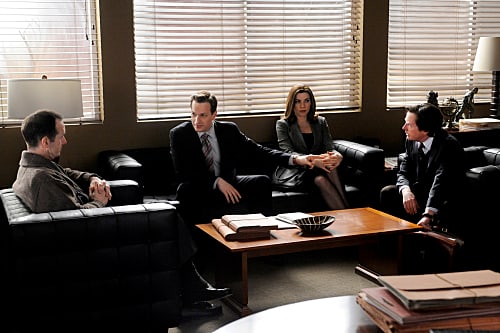 Ironically enough, his passing delivered more than a few comical moments, such as the mounds of potato salad containers at Stern's wake. I suppose potato salad is the go-to comfort food for people in mourning. It's funny, because it's true.
That canary-eating look between Will and Diane as they lamented Stern's passing then confessed their shared ill-timed opportunistic thoughts had me in stitches. It's been interesting to see the dynamic between Will and Diane change from combative to that of genuine ease and comfort, ever since plotting to evict Bond from the firm. I rather enjoy the cozier countenance the two share over a glass of brandy or whatever their libation of choice may be.
Will appeared to undergo a large metamorphosis, going from stammering "I need some help here" as he tried to figure out what Tammy wanted from him (what guy hasn't been there?) to asking Tammy not to take the job in London upon reflecting on Stern's lack of any real legacy. I don't care much for Tammy. Maybe it's Elisabeth Reaser in the part, I don't know, but she just doesn't feel like a good fit for Will.
Nevertheless, it would seem Will has made the leap from just messing around to wanting a fully formed relationship with her. Or perhaps he's just afraid of being alone.
Despite Alicia's statement to Tammy that things were over between she and Will a long, long time ago, her body language tells a different story. The leering glance as Will approached Tammy in his office. The sparkle-eyed chuckle as she told Tammy Will likes to think he's still a kid, but he's not. She's still very much on the hook where Will is concerned…she just can't do anything about it. Yet.
The news about Peter and Kalinda's one-night affair is about to reach the breaking point. I still am fuzzy on how Petra found out about Peter's dalliance with a co-worker, but she's all ready to blow it wide open. Kudos to Eli for stamping out her inflammatory interview with Alicia, and in glorious form too. 
Between that and his opening blowup with the DCC Chairman, I'm getting rather used to seeing Eli lose his cool. It certainly makes me laugh.
With Childs' minion and his talking-lion telephone breathing down his neck, Cary is walking a difficult tightrope. Will his allegiance to his job outweigh his allegiance to Kalinda? I think he's more inclined to tell Childs where to go. That scene of Cary pleading to Kalinda that she should have opened up to Alicia about the affair told me all I needed to know.
Whether it's from a romantic or brotherly standpoint, it makes no difference: Cary loves Kalinda. I think he'll defend her with his dying breath.
Would Alicia really leave Lockhart and Gardner? She has to be at least considering it. Canning's offer is at least the second she's received in a matter of weeks; that has to make her curious what it would be like to move on, especially at a much higher salary.  Her contemplation in her office before Eli interrupted leads me to believe she isn't ruling anything out.
That's a new, new day I hope we never see come.
Jeffrey Kirkpatrick is a TV Fanatic Staff Writer. Follow him on Twitter.