There are a few things Castle knows how to do better than most shows on TV right now - cases filled with multiple twists and showcasing serious chemistry. 
"To Love and Die in L.A." was no exception.
Beckett and Castle headed west to investigate the murder of Beckett's former training officer, Mike Royce. This was awesome for several reasons, so let's get into it.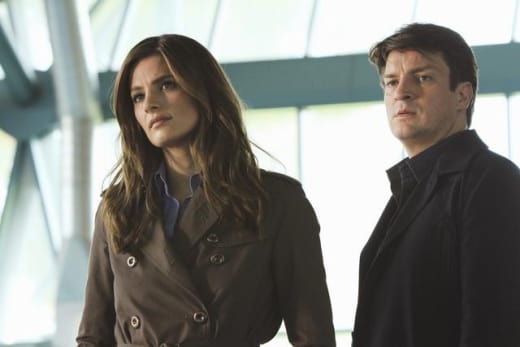 The murder of Royce made Kate go rogue. Rogue Beckett is equally, if not more fun that serious Beckett. Who knew our favorite detective could pick locks, jump off piers, and look amazing in a white t-shirt and jeans?
There were a few random things, starting with the quick guest appearance from Gene Simmons. As strange as it was, it totally served it's purpose to find out both Castle and Beckett had once dressed up as him for Halloween.
The case itself was also a little random, starting with murder and leading to the theft of dissolvable bullets. It didn't even matter because the hour offered up a chance for us shippers to completely swoon.
As much fun as "To Love and Die in L.A." was, there was one scene that totally made it - the hotel room.
Castle and Beckett shared a sweet moment with Rick admitting that he is amazed by so much about her, including her hotness. Kate standing behind the door holding on to the handle had me shouting at the TV for her to run back into the room.
It wouldn't have been classic Castle if he had still been waiting for her. The awkward tension where a kiss should have taken place was the perfect setup for the end of the season.
On another note, Stana Katic can work a bathing suit! Castle's reaction to her coming out of the pool was priceless. The letter Royce wrote to Beckett was a nice touch. Maybe him telling her what she has with Castle is real will send this couple in the right direction.
Other thoughts...
How fun was the set visit for Castle's book? The actors cast as Ryan & Esposito? Perfection.
It was great seeing Lanie & Esposito together again, even if it was super short.
Billy Riggins! Derek Phillips played the security guard and quickly reminded me of how said I am that Friday Night Lights is ending. 
Although the twists and turns of the case may have been a bit much, I was more than happy with "To Love and Die in L.A." What did you think? Was the teasing just right or not enough?
Only a few episodes left until the end of the season. What do you think is in store for us Castle fanatics? Make it count and sound off below.