The only negative thing I'll say about this episode is that I'm really getting sick of the Pierce is in the study group "yea or nay" story plot. I thought we were generally over that after the hospital ep.

That said, holy slo-mo paintballs that was fun. I never thought anything would ever top the original paintball episode, but "A Fistful of Paintballs" did so in spades (and aces, and clubs, and hearts).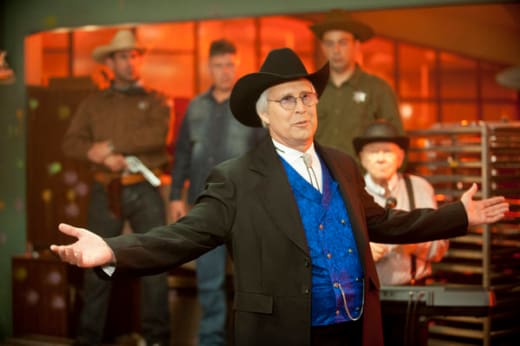 From Fort Hawthorne and Vicky's dancing for Twinkies, to Chang's quest for an alliance (and attempted death by cheerleading squad), to Jeff's insecurity over the handsomeness of the Dark Rider (guest star Josh Holloway) every moment was pure exhilaration.
Even the title sequence trumped the one for Dungeons and Dragons, merging the spirit of a western with the insane asylum mood of Community.
Despite my earlier complaint about Pierce, it was hilariously appropriate that Pierce put a bounty on Jeff's head (that's at least the second reference to Jeff's forehead this year, by the way) considering the oil and water nature of their relationship.
I loved the framed titles given to each of the characters and how they matched the card each had played in the flashback vote on whether or not to kick Pierce out of the group. It occurred to me, though, when they showed Jeff's title card that the way Joel McHale's face crinkles up when he smiles tells me the dude is gonna look like a city map when he ages. But I digress.
Everyone, (including Shirley!) was in on the fun, but Annie was truly the show stopper. Alison Brie grabbed this episode by the nape of the neck and slung it over her shoulder like a sleek leather jacket. My goodness the girl plays sexy badass better than you'd ever expect. That opening segment of her dropping from the ceiling in the shadows left my mouth agape.
The best part about the episode, though? It's a two parter! Can't wait for the continuation of the paintball saga next week to see who is left standing at the end.
What did you enjoy most about the episode? Let us know in the comments below and check out some of the episode's best Community quotes as well!
Jeffrey Kirkpatrick is a TV Fanatic Staff Writer. Follow him on Twitter.