Unfortunately, I don't have a council at my disposal for this review so you'll have to do with me.
"Lonesome Sundown" was the type of Cougar Town episode that elevates itself from the rest for me. One where the comedy is great but the emotional arcs and relationships between the characters also prosper.
It's one of the reasons why I believe Friends was so successful and why I've come to love Cougar Town so much.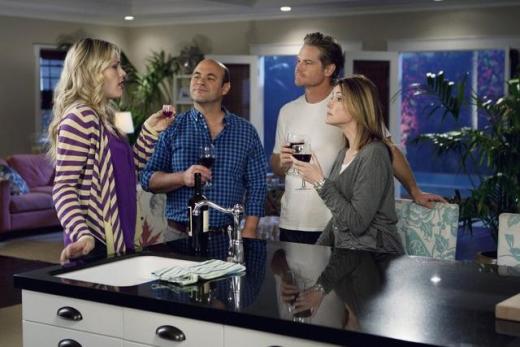 The Council is one of the funniest gags the show has done since Penny Can. It was a great way to mess with each other and offered us the greatness that is Jules being forced to spend the weekend on Bobby's boat.
Seriously, watching Jules eventually embrace her inner Bobby was comedy gold and the cherry on top was her pulling forward in the golf cart. I couldn't stop laughing.
But like I said earlier the show elevates itself when we get to see payoffs and emotional growth in the characters. And it happened in one of the least used pairings in the show: Grayson and Travis.
Usually the two of them just rib each other and call it a day (which is how it started off) but, it eventually turned into an surrogate father and son relationship. Don't get me wrong Bobby is an excellent father but it doesn't hurt to get advice and support from someone else. The two of them really came to an understanding with one another during it. Eventually leading Grayson to cover for Travis with Jules and telling him he loved him.
Naturally, the two joked about it right afterwards but the fact still remains that there is a genuine love and respect between the two of them now that wasn't there even a few episodes ago.
Other thoughts:
Nice cameo from Lou Diamond Philipps.
Lady J. Love Explosion.
Sumo wrestling.
Tight t-shirts.
Pancake.
I'm so happy the show made a joke about Travis' hair.
Little Richard.
Check out some of last night's top Cougar Town quotes and tell us what you thought of "Lonesome Sundown" by leaving a comment below ...