Desperate Housewives Season Finale Review: "Come on Over for Dinner"

Christina Tran at .
Desperate Housewives wrapped up season seven with a two-hour episode this week. Did it disappoint or live up to everything a season finale should be? I thought it fell somewhere in between spectacular and phenomenal.
"And Lots of Security…" picked up right where we left off last week with Susan behind bars. Fortunately, Paul came to his senses and realized that the culprit had to of been Felicia and not Susan. I'm thankful that the writers did not drag this out too long.
Crazy Felicia was at it again when she clubbed Paul in the head and managed to tie him up in a chair with an I.V. slowly killing him. Sitting alongside "Beth", Felicia wanted Paul to apologize and admit to killing her sister, Martha. Well, she got the latter.
Of course, Susan showed up wanting to set up M.J.'s toys in his room the night before moving day for the Delfino's. Cleverly, Susan used the sirens from one of M.J.'s toy cars to scare off Felicia. From the moment Susan was trying to free Paul, I knew things were just going too easily.
When Felicia ran back in the house and whacked Susan in the head, I honestly thought we were about to witness the promised shocking murder at any moment. To my dismay, Susan convinced Paul not to kill Felicia. While Paul turned himself in and confessed to killing Martha, Felicia seemingly got away.
It wasn't long, though, until "Beth," ironically, could have quite possibly killed Felicia in a head-on collision with a semi-truck. Are we to believe that Felicia is really dead? I mean, this is
Desperate Housewives
after all.
Meanwhile, Tom and Lynette's quarrelling was relentless even at a bed and breakfast getaway. I didn't feel that bad for the other couple who grew increasingly uncomfortable because we've dealt with their bickering for months now.
Again, I loved the chemistry between Chuck and Bree. I'm so glad that Lee's "homographic memory" and "time of gay" weren't exactly precise. That was an awfully funny storyline though with Lee convincing Bree that her new guy was homosexual.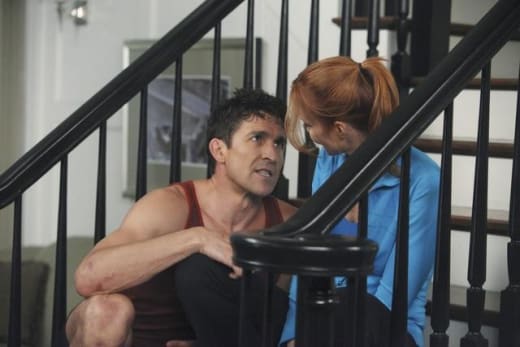 Apparently, Juanita was right about the scary, skulking man outside of Carlos and Gaby's house. At first, Gaby was hesitant to even learn about gun safety in fear of actually killing someone, but she mustered up the courage after finding out that the mysterious man was her supposedly dead stepfather.
By the way, did you notice that Gaby's stepfather, Alejandro, was actually Ugly Betty's dad, Ignacio Suarez?! This realization made me question once again why Renee, formerly Wilhelmina Slater also on Ugly Betty, still didn't have her own storyline.
Luckily, she did get something though on part two of the season finale. More on that soon, though.
In "Come on Over for Dinner", I loved seeing Susan back on Wisteria Lane. It was nice to see all of the ladies finally back together again. I also loved how Susan was trying to reenact the fight between Paul and Felicia. That was so Susan and hilarious, too.
In hopes of honoring the return of Susan and Mike, the residents of Wisteria Lane decided to throw an old-fashioned progressive dinner party. What a fun idea! Little did they know though it would actually turn out to be a mystery murder dinner type of party.
If we were playing Clue, you could say that Alejandro died in Gaby and Carlos's living room. Who killed him and with what? Well, check the envelope and you'd find out it was Carlos with a candlestick holder. Yes, Carlos attacked Alejandro and killed him when he was trying to protect Gaby.
We found out that Gaby never reported the rape incident with her stepfather and that Alejandro was unarmed when Carlos attacked him. Carlos would have gone to jail, but of course our Wisteria ladies showed up in the nick of time and wouldn't have let that happen. By all playing a part in covering up the murder, their secret is safe for now.
One more thing, Carlos and Bree also made up.
The scenes between Gaby and her stepfather certainly had me on the edge of my seat. He was much more frightening and creepier than even Felicia… poor Gaby.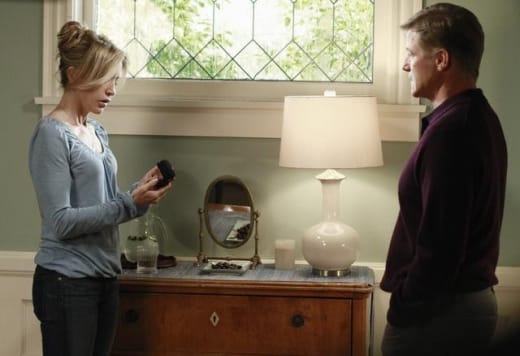 As for Tom and Lynette, I thought the coast was clear when Lynette realized that Tom hadn't moved out. However, she actually admitted to being relieved thinking that he was gone. Are you shocked that they are over for now? I, for one, am hoping that this time of separation will only mend their broken marriage.
Finally! Renee kind of sort of got a bit of a storyline. Too bad she was just devastated though the entire time after finding out that her ex-husband was getting remarried.
The short relationship that ended in a matter of hours or maybe minutes with a bartender was definitely entertaining though. I look forward to the day Vanessa Williams gets something brilliant to work with on this show.
Like its predecessors, the Desperate Housewives season seven finale was absolutely amazing and did not fall short of suspense, mystery or drama. As always, I'd love to hear your thoughts in the comments below.
Well, it's been a pleasure! See you again this fall.