Desperate Housewives Review: "Then I Really Got Scared"

Christina Tran at .
I have to admit, I was a bit apprehensive that "Then I Really Got Scared" would fall on the boring side. This is only because a two-hour season finale is just around the corner.
However, last night's Desperate Housewives wasn't dull at all.
Actually, it was quite entertaining. With summer just around the corner, Tom surprised and/or blindsided the family with tickets for a Hawaiian vacation. The only problem was Lynette already had an RV camping trip in the works.
So, what did they do? They decided to make presentations to the kids, and let the kids cast votes and decide.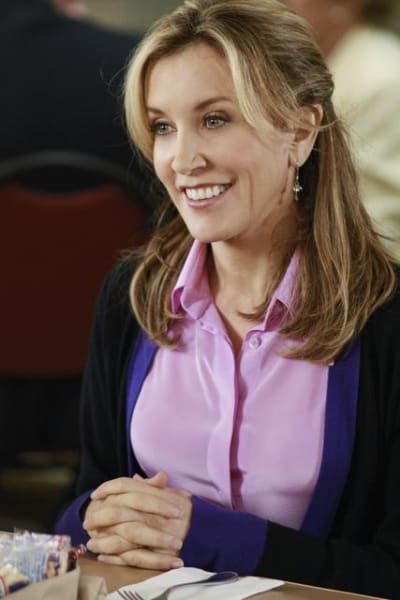 Unfortunately, the presentation ended with a huge fight between Lynette and Tom. While Tom confronted Lynette about her inability to handle his success, Lynette said it was him who didn't know how to handle his own success. Poor Penny had to walk in on her parents fighting like that.
It's no secret that Lynette is a control freak, and I do think that she has been having trouble lately dealing with Tom's success. However, Tom could have easily talked to his wife about the trip and was out of line when he called Lynette a raging bitch.
I want Tom and Lynette to stay together, but I do think that they might need a break either together or apart. 
As always, Susan couldn't seem to catch a break. She wanted her job back and wasn't asking for forgiveness; she just wanted a second chance by showing she could help out at open house. Obviously, Susan's previous job wasn't particularly appropriate. Yet, how catty and smug were the other moms?
Susan was also still lending a helping hand to Paul by cooking for him. Meanwhile, evil Felicia was still poisoning the food. I still don't understand how Mike, M.J., and even Susan haven't had a bite of anything and gotten sick.
By the way, when Paul's doctor told him that there was a possibility that he was being poisoned, I didn't get why he quickly assumed it would be Susan. Sure, she was at the hospital with him at that moment and we knew that she'd been cooking for him. However, Felicia has been cooking for him, too.
Why wouldn't he consider his worst enemy first?
It was funny watching Susan trying to get all of the poisoned cookies off of people's plates, out of their hands, and off the tables. How embarrassing was it when the cops and Paul showed up at the school function to arrest Susan? Also, how the heck is she going to get her teaching job back now?
Moreover, I didn't understand why Susan just didn't tell Paul that it was Felicia who was poisoning his food and not her. That was just ridiculous.
Gaby's certainly got some interesting parenting techniques. I always get a kick out of her teaching Juanita and Celia a lesson or two. Scary movies, though? And did Gaby really think that was just people walking by when Lee's scary shadow appeared way too close to the tent?
I loved the dynamic of Bree and detective Chuck. Thanks to Renee's background check skills, Bree found out that Chuck had a secret of his own – he's married. However, he's been separated for about a year.
Much to Bree's dismay, Chuck also dug up his own dirt on her. Touché… right? Bree wasn't too happy about it though. Consequently, she ran into some trust issues with Chuck. Luckily, they tried again for a normal date after an incident with a prostitute.
Bree and Chuck have chemistry, and I hope Chuck sticks around for Bree's sake. With any luck, he'll find out that creepy Felicia is the one who's been trying to kill Paul.
Maybe he will also figure out who the mysterious man is outside of Carlos and Gaby's house. My bet is that it's her stepfather who molested her when she was a child. Gaby has been through numerous struggles this year, and I have a feeling she's got much more to deal with before the season is up.
Overall, I liked this installment of Desperate Housewives and am looking forward to next week's season finale.
As we prepare to bid adieu to season seven of Desperate Housewives, what would you like to see happen on next week's two-hour season finale? What did you think of "Then I Really Got Scared"? I'd love to hear your thoughts in the comments below.