Gregory House is a braver man than I am. Or perhaps he's just a crazier man. Or a more desperate man.
No matter how one classifies it, House took rule-breaking to an extreme level on "After Hours," although this time the only life he risked was his own. What a brilliant, pained performance by Hugh Laurie, who made viewers feel every ounce of agony his character suffered through while performing surgery on himself.
Yes, you read that correctly.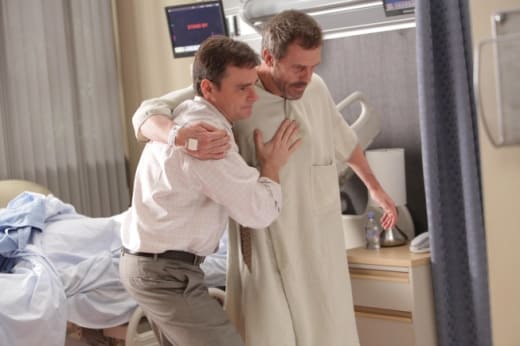 The concluding scene with Wilson lending his friend a shoulder to walk on reminded me of an exchange from seasons ago.
On the balcony outside his office, soon after House broke things off with Stacy, Wilson screamed that his pal's problem is that he wants to be unhappy. He believes that being unhappy makes one special, but Wilson had a message for House:
It doesn't. It just makes one unhappy.
This has been House's struggle for many seasons now. He uses his leg as an excuse for his outlook on life. That's why his actions with the experimental drug actually represented a major shift for the man: following his split from Huddy, which was blamed on House's less-than-sunny disposition, he actually wants to change. He wants to be happy.
Of course, he has no idea how to do that. There are plenty of positive, handicapped people out there. Fixing his leg won't fix what is actually wrong with House, something he seemed to acknowledge when Wilson helped him limp to the bathroom to close the episode. What will this mean for House?
It's unclear, as the series has struggled for years with how to evolve its title character. Change him too much and there's practically no show; leave him how he is, and there's a lack of progress that fans have seemingly sensed more this season (due to the Huddy debacle) than ever before. With 2011-2012 confirmed at the show's final season, it will be interesting to see how things are left on next Monday's finale.
Elsewhere:
I love the idea of Taub as a father. There's a lot of material to work with there. But I wish the episode didn't resort to the cliche of a near-death experience causing him to re-evaluate his original stance on the issue.
Solid job of bringing Chase's euthanasia decision back. It drove Cameron away, but it brings him closer to Thirteen here. These two haven't even hooked up yet and I'm already more interested in them than I ever was with Thirteen and Foreman.
Matt Richenthal is the Editor in Chief of TV Fanatic. Follow him on Twitter and on Google+.