Sixteen-year old Beth Harris got blindsided not once, but twice this week, while Mary stepped up to help her through it.
Indeed, "Meet the Shannons" brought out Mary's motherly instincts, or at least the closest thing to it I've ever seen from her.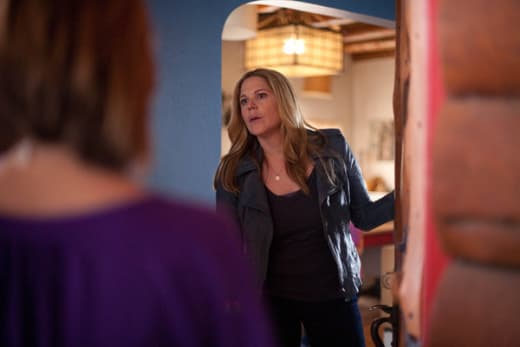 Mary did a wonderful job of switching between tough love ("Just so we're clear, if you tell any of them anything I will move you and your family so fast it will make your tiara spin") to sharing her own father's fugitive past (albeit, leaving out the details) to let Beth know she wasn't alone.
It was great to see Mary take this kid under her wing and help her navigate the minefield her parents lies had created. Could this be a preamble for showing us Mary might have a motherly bone buried somewhere deep?
I couldn't get enough of Mary and Marshall's references to
24
. Mary's right: CTU would have the information instantly. The U.S. Marshals were slacking off. Could you just picture a Marshall and Chloe O'Brien pairing? And a Jack Bauer/Mary Shannon dynamic duo would kick some serious ass.
Jinx was brilliant as she carried her cardboard seating chart in to dine with the future in-laws. I almost thought she might cry when they tried to take the wedding venue from her. That Mary totally called her on her con and helped her play it was simply perfect. Great to see these two working as a mother/daughter team.
One question: when Mary brought up being a little girl whose father was a fugitive, as she talked to Sharon at the back of the car, Marshall walked away. Why? Mary was willing to share the story. Did he feel as though it was too personal and wanted to give her space? I'm still trying to figure out his motives.
Meanwhile, Abigail and Marshall were just too darn cute. I don't know if this is a short or a long term pairing but it's nice to see Marshall happy. He deserves to be.
"Meet the Shannons" combined all of my favorite characters into a different and very entertaining WITSEC story. This was one of In Plain Sight's best episodes so far this season.
C. Orlando is a TV Fanatic Staff Writer. Follow her on Twitter.