The female lead on The Finder is currently being recast, with Saffron Burrows leaving the Bones spinoff that will debut in midseason next year, according to EW.
The former Law & Order: Criminal Intent actress played Geoff Stults' sidekick in the show's quasi-pilot, an April episode of Bones fittingly titled "The Finder."
Her character, Ike, was a tough bar owner and helicopter pilot with a very pronounced English accent, but the network has decided to re-conceive the role.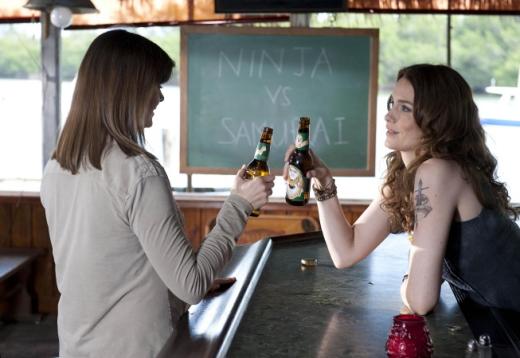 A recasting such as this is common this time of year after networks analyze their pilots and try to figure out how to make the shows better before they debut for real.
Normally this all happens behind the scenes, but in the case of The Finder, the pilot already aired nationally with Burrows starring as part of an episode of Bones.
One similar example? Private Practice's pilot debuted as an episode of Grey's Anatomy, with Merrin Dungey as Naomi, who was then played by Audra McDonald in the fall.
Geoff Stults and Michael Clarke Duncan are still signed on for The Finder. It's unclear if Ike will be played by a different actress or the character scrapped altogether.
Steve Marsi is the Managing Editor of TV Fanatic. Follow him on Google+ or email him here.