The Borgias Season Finale Review: "Nobody"

Dan Forcella at .
As the saying goes, with death upon death upon death comes new life. Well, at least that seems to be the saying on The Borgias.  
"Nobody" ended the season with King Charles finding his new kingdom of Naples filled with a drove of dead plague victims, while the Borgias welcomed a new generation to the family.
Yes, King Charles of France made it to Naples, and it was great seeing the disappointment on Della Rovere's face when he found out Charles wasn't going to do anything about the situation in Rome. Who would have known that this murderous villain was such a softy when in the presence of His Holiness? It certainly was a nice twist, though, as it allowed for the Borgias to remain in power, and kept Della Rovere on the hunt.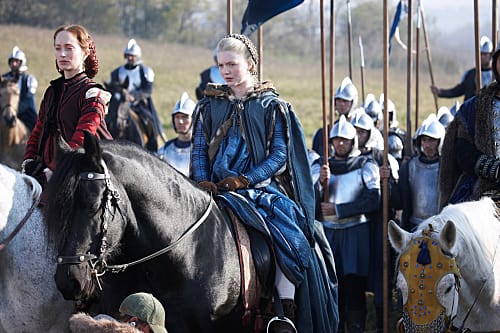 I'm glad to see that my previous prediction that Della Rovere wouldn't make it out of this season was incorrect. In this case, one of the historically educated commenters informed me that the Cardinal would be around for a while after last week's episode, but I really do prefer to not know the background of the series.  
For the first time, I knew what was
not
going to happen, and it made things a little less interesting. Wondering who is going to make it out of the story alive creates a lot of excitement.
But once Pope Alexander and King Charles were finished hanging out and eating feasts, the French King did make his way to Naples, which is where he found bodies upon bodies of Neapolitans dead from the plague. What a nice quick hitter by Rodrigo. Nobody makes the Pope nervous and gets away with it!
It's just too bad for the King that his legate/hostage in Cesare Borgia found a way to escape because now Charles has nothing to hold over Rodrigo. Unless you count the gigantic army he still controls that could easily take over Rome.
And the work of Cesare, with the help of his man servant Micheletto, was what made "Nobody" bring the season back full circle. The two of them kicking ass and taking names was a big part of what made the premiere so good. We got a healthy taste of that in the finale as they took out a couple of Frenchmen and then captured Giovanni Sforza.
After the premiere and the subsequent episode, I thought we were going to get a lot more of the Cesare and Micheletto show. I'm glad we didn't, though, as it may have made the series even more tiresome then it did become at times. Bringing it back in the finale, however, was both perfect for the action of the episode, and a nice call back to have at the end of this chapter.
Regardless of anything that came before it, the birth of Lucrezia's baby was of utmost importance. Not only does it symbolize a new generation of Borgias, ready to plot, scheme, and kill to get to the top, but it brought the entire clan together for the end of the season.
Yeah, I am still upset that the Giulia Farnese problem was never dealt with in a satisfactory manner, but seeing her co-habitating the same room as Vanozza was an interesting enough dynamic that it made up for it. It was almost as if Rodrigo's love of new life overwhelmed them all into getting along for this one day, and it was kind of beautiful to see them all by the bed of Lucrezia as the season came to an end.
"Nobody" continued the fine back end of The Borgias' first season, and now gives reason to get a bit excited for the second installment. What did you all think of this week's season one finale? And will you be tuning in next year?
Dan Forcella is a TV Fanatic Staff Writer. Follow him on Twitter.