The Chicago Code Review: "Black Sox"
Jim Garner at .
In a rare showing of real emotions Jarek Wysocki decided to be honest to the three women in his life, Vonda, Elena, and Dina in "Black Sox".
That being said, I am not sure I would want to be at a Wysocki family gathering for the next few months. But, we learned more about Jarek and the Wysocki family in these 42 minutes than we had from the entire previous ten episodes combined. 
The toughest truth to learn was Vonda's.
It is really hard to find out that someone you have idolized your whole life turns out to be human. It's even worse when they turn out to not only human, but also a jackass; as was the case with Vonda's father who had been having a long term affair (cheating on Vonda's mother) at the time of his death. 
Then again, hello? Vonda? You're sleeping with your partner and keeping it a secret. Do you really think you have room be so self-righteous?
Oh wait; it's not a secret, that's right; you threw Isaac under the "Jarek Express" bus when you tried to use the news you were dating him to hurt the one person who has always looked out for you, Jarek. Now both the men in your life are upset with you.
But that should not be a surprise. Let's look at your role model. Jarek has been juggling an affair with his ex-wife while dragging out the wedding plans to his younger fiancée for months. Not exactly the model of "ideal relationships" to build your foundation on. But, then again, if your uncle and father both have been prone to bad relationship choices, there are those who would say you would be too. Sounds like no matter which way turn, you're in it deep.  
Honestly, I feel for Jarek, he maybe a smug bastard at work but he really was rattled this week. Between Vonda's confrontation and Aaron Fash mirroring his wish to stop living a lie, he had quiet the emotional break through, regardless of how destroyed things ended up.
Simmering on a slow burn was the Gibbons/Colvin mix that is heating up and going to explode all over the place very soon. While the warning shots this week were quiet and stealth, with Gibbons agreeing that he has not done enough to take care of "the Teresa Colvin" issue I expect next week things will truly go all out.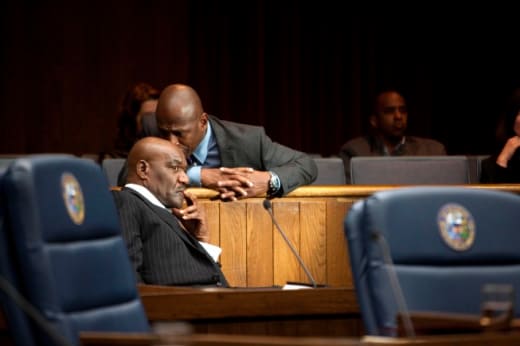 I have to complement this episode for its musical choices, especially the music that was played during Evers and Wysocki car chase. It had a very unique feel to it and really made the car chase feel a bit different than you would expect. One thing that will may our own Matt Richenthal truly happy, there were no voice overs of any kind in this episode. 
This brings me to my final question. The main case Wysocki and Evers were on was a hot topic because it appeared to be a hate crime. It is a hate crime when the guy who did it was in love with the victim and actually killed him because he didn't want to be without him? I couldn't decide at what point the intent defined the action regardless of the resulting appearance.
What did you think of this week's episode?  Let us know below!
Jim G. is a TV Fanatic Staff Writer. Follow him on Twitter.