I can sum up my thoughts on "In Sickness," with one statement: Julianna Margulies just won herself an Emmy.
I was so captivated by her performance, that I have a difficult time really putting into words how I felt about it. She's always been great, but tonight she went from great to absolutely spectacular.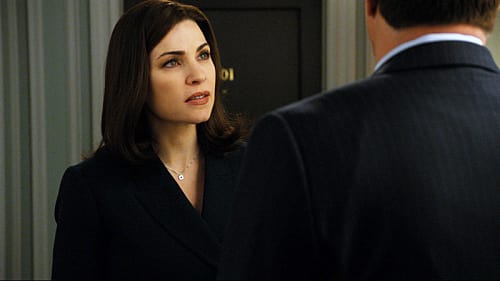 I loved the montage of her packing up Peter's belongings and then getting herself primped and primed for court, all set to the music blaring from her son's iPod.
The only thing that could have made all that better would have been to have a Waiting To Exhale moment with Alicia stuffing his things into his car and setting it on fire and then walking away, leaving it burning behind her.
A victim no more, Alicia is finally taking control and looks fabulous doing it.
How heartbreaking was the scene between Alicia and her children as she struggled to explain the situation between she and Peter without unnecessarily giving them the sordid details?
When Grace spoke through tears "You need to protect us more" and Alicia collapsed into sobbing, I was nearly right there with her.
At the time, I did find it a little ironic that Alicia was trying to explain to the kids that sometimes when something could hurt the family it's ok to not tell the whole truth, yet she's angry with Peter because he didn't tell her about Kalinda.
My first thought was maybe he really was trying to protect her feelings, since this was the first true friend she had made since the scandal first broke and all her other friends deserted her.
Then that final confrontation came.
After Peter realized he couldn't manipulate her emotions anymore (What Peter?? She wasn't flattered that you would give up your JOB for her?!?) he had the audacity to lash out at her regarding Will? His true colors revealed themselves in that moment, and all I can say is good-bye and good riddance.
If that final scene between Cary and Peter is any indication, though, things are gonna start getting ugly not just in the personal life but in the professional as well.
Speaking of Cary, he's a lousy interview. You basically beg for an opportunity to come back and then you balk in their faces at the offer? I like Cary, but think he's got a massive ego problem, and his rivalry with Alicia isn't doing anything to help it. Time to let it go, Mr. Agos.
I do not like Jackie. Even her "compliments" are backhanded insults. "I've come to appreciate…aspects of you." Her meddling has just gotten to be too much, and I was proud of Alicia for standing up to her, especially for not responding in kind to her curse (although you know she wanted to). Personally, she's a character I'd like to see packed up and sent back to whatever WASP-y hive in suburbia she emerged from.
The case they were working involving the liver donor was almost a side attraction to the force that was Patty Nyholm. Turning right around and hiring L&G seconds after going toe-to-toe with Alicia before a judge? That was fantastic.
Martha Plimpton makes me laugh every time she shows up, especially with the various ways she uses her baby to her advantage. (Using the baby monitor to leak sensitive information was pretty smooth.) She was a nice distraction from the tension in Alicia's situation, not to mention the patient's desperate situation and heartrending plea to Alicia "I don't want to die."
I love that Alicia and Eli get along so well. He treats her with so much respect. In fact, he's about the only one who does anymore, Will and Diane aside. Wouldn't it be delicious to find Eli siding with Alicia and telling Peter where he can go?
I'm not going to speculate on what is to come anymore than I already have. Suffice it to say I'm enjoying where the show is heading and am looking forward to a splendid season finale that will hopefully knock my socks off even more than this episode did.
Jeffrey Kirkpatrick is a TV Fanatic Staff Writer. Follow him on Twitter.