When you do the impossible, what's next? This was the question Michael Westen was faced with on the season five premiere of Burn Notice, "Company Man."
I appreciated how the episode dropped us in six months after Michael was taken to the CIA headquarters in DC last year. The opening montage gave us some glimpses of where he's been, what he's been doing, and how much bigger the game has gotten for our favorite spy.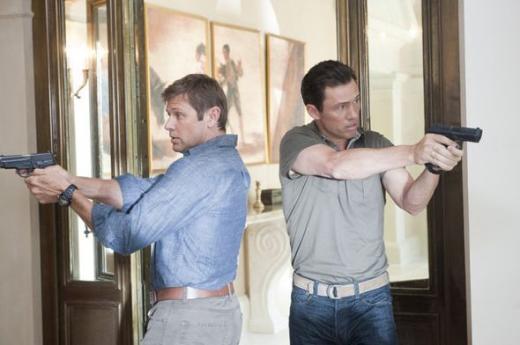 We were quickly introduced to Senior Field Officer Max (played by the always hunky Grant Show) and then Raines. Raines is the man who originally recruited Michael and the person who welcomed him back to the CIA to wrap up season four.
While I like Max, (because he reminds me of Michael), I couldnít get a feel for Raines. At first he was kind of a jack-ass, and then he was kind of cool; finally he was somewhere in the middle. It's going to take a few more episodes before I decide on him.
Conversely, while we got some good time with Fiona, Sam and Madeline, Jesse seemed to only be in the episode to show he is a series regular now and to set up some foreshadowing when he went on about how he quit the government and is now working as high-end security guy in Miami.
Blah. Whatever. Call me when he does something exciting.
Elsewhere, I've said it before, but Madeline reminds me of my mom for a multitude of reasons. Seeing Michael and her together again after this long made me stop and call my mom after the hour was over. Call me a sap. Or just call this an example of good writing.
Sharon Gless and Jeffrey Donovan have such amazing chemistry together; after she told him the story about how she never got to confront his father because he died, you could tell that her words helped Michael more than anything Sam, Fiona, or Max had said. You have to admire a mother's ability to comfort her child.
Michael and Madeline aside, the episode really felt like it was missing something. I felt like the Wiley Coyote after he caught Road Runner, with a "well, what now?" feeling. I think it was caused by a combination of there not being a client for the team to help and by Michael chasing the last person who helped burned him.
Let's hope Matt Nix can figure out how to put the genie back in the bottle. I have little doubt he will and the premiere was used to tie up a few loose ends before we move on.
What did you think? Do you like Max or Raines? Do you think Michael will will regret going back to the CIA?
Jim G. is a TV Fanatic Staff Writer. Follow him on Twitter.