"Apparently, going [to Comic Con] with one of the Heroes is like going with Mr. Spock," joked Piper Perabo, star of Covert Affairs, when asked if she was excited that the show will be heading to the San Diego event for the first time in July.
"[Sendhil Ramamurthy] has been giving me pointers, he's like 'You just gotta be cool. We're gonna take a lot of photos and you gotta fluff your hair up a lot,'" she laughed. "It'll be cool to go with someone like Sendhil cause he knows the lay of the land."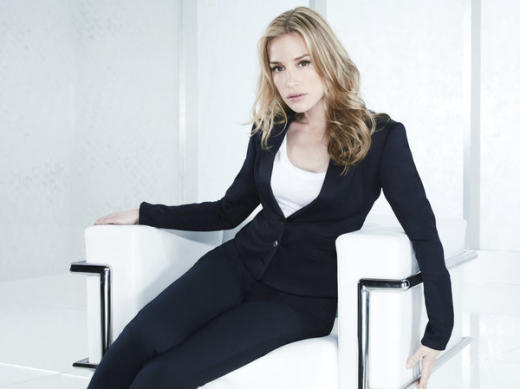 Perabo struggles to imagine what such a massive event, involving casts from other shows and projects, will be like.
"Do the different casts pass each other? Are there rumbles? Are people making out that know each other secretly from other shows? Like what's backstage? I always want to know what's going down there."
While preparing to face crowds dressed as the Green Lantern and Princess Leia may daunt her a bit, the actress has no problem tackling the tough preparation the show requires, both physically and intellectually.
"We're still doing mixed martial arts... Krav Maga. For some reason this year it's a lot more running. I think they like it when I have to run in heels because it keeps me slow enough so the camera guys can [keep up]," she related. 
"In the Argentina episode, we're running through the woods and one of the camera guys actually took a spill. Like he's running backwards and it was like 'Whoa!' and he was out. He was fine, but I appreciate that other people are taking risks as well."
As is the case with any series focused on international espionage, there will be times when foreign languages are a necessity.
"I did more Russian this year," Perabo said. "I don't know if we put a new language in this year, but that Russian scene... we sing in Russian and we get drunk. So you're getting progressively more drunk and speaking in Russian. At one point, I looked at the writer and I was like 'Really? Three pages? Drunk in Russian?' and she was like 'You said you wanted to do languages!' So the Russian scene was hard, but fun."
Annie's love life has been of particular interest to fans, who seem to be split on whether or not she should be with elusive hunk Ben or the dashing and equally handsome Auggie. (Read Christopher Gorham's thoughts on their relationship in our interview with that star.)
Perabo, however, hinted that Annie may soon have more options on her plate.
"Things start to get mixed around. Annie has more love interest this year so that starts to get a little difficult to balance. I've got that problem in this episode, actually. More than one, you know, pan on the stove."
She noted that if she had her pick of actors to come on board to play a suitor for Annie, she would love to have Ben Wishaw come aboard, or possibly Yul Vazquez or Bobby Cannavale.
"I do like that I don't have a gun," Perabo affirmed when the issue of Annie's vulnerability sans firepower came up. "[But] if you don't have a weapon, even if the other person doesn't have one either, I'm really at a disadvantage.
"We did a fight scene underneath a planetarium where I'm fighting a girl my size and only the safety lights are on, so not only is it dark and light, there's no weapons, [so] we're evenly matched. That to me was very cool, and if you have a gun that kind of stuff would never happen. So I'm not really for getting the gun yet; it's more fun without. It'll be a big thing for her to get one I think."
It's also a matter of realism, Perabo stated, as real life CIA officers don't carry guns on American soil "because they don't have a badge, and can't really explain the gun if you're a banker or whatever."
After chatting with an agent who Perabo has befriended, she learned that sometimes even when carrying a gun is an option, such as on foreign assignments, some agents still opt to leave it behind. 
"She said, 'I purposely don't carry a weapon because I think it would spook my assets.' So she has security that her assets don't know are in the room or standing in the street, or something, and they have weapons, but she doesn't carry because she thinks it'll make the assets nervous."
The positive light in which Affairs paints life at the CIA makes access and reception by the real life agents who work for the organization better, Perabo believes: "I don't think we'd have the access to the information that we get from Langley if they didn't like the show."
Still, it isn't everyone's cup of tea over there: "One of the writers who was at Langley this year said he was talking to an analyst, [who said] 'My husband watches it' but she was clearly, like, not a fan, which is so weird for her to give them the tour. So I think overall they approve, but they don't all like it. I don't know, to each his own."
Does Perabo have a dream assignment of her own? Yes.
"As a season opener or something... I think it would be fun that as a cover Annie has to get married. In the trailers you would see, maybe she's marrying like Jai or Auggie and you see, like, the dress and you're walking down the aisle and you start to see the people in the audience. There's like Joan and Arthur and Henry Wilcox, and all these people, and so in the trailers you think she's going to marry somebody but then somewhere in the ceremony like all hell breaks loose and you just blow the place up with guns, exploding flowers and the priest is CIA. First of all, a wedding dress is a great thing to hide weapons in. 
"I think it would be really cool to be getting married as a cover," she effused. "I don't know why you would have to get married, but, they'll figure that part out. I just want to wear the dress." 
Covert Affairs airs on Tuesday nights at 10 p.m. on the USA Network.
Jeffrey Kirkpatrick is a TV Fanatic Staff Writer. Follow him on Twitter.