Franklin & Bash brought out the heavy hitters this week, but it didn't need to: the show had me from the first scene. Office chair curling? I could not stop laughing. It's a sport that epitomizes this series.
"You Can't Take it With You" had some perfectly cast characters come on board, starting with Tom Arnold as "The Douchey Dad." It wouldn't surprise me at all to find this reality show already on TV somewhere... and to find it starring Arnold.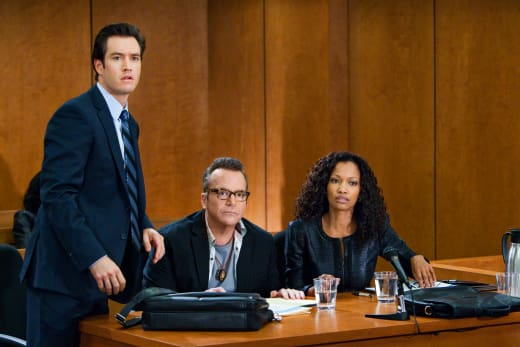 Then, we had Beau Bridges as Jared Franklin's dad. He played the part well. In one moment, he was so condescending that he was practically patting Jared on the head, and then you caught a hint of a proud but regretful father. 
It looked like Jared's father was the only one who could knock the cocky arrogance out of Franklin, yet he still made him want to get up and keep fighting.
I also liked that there was obvious bad blood between Leonard Franklin and Stanton Infeld. I look forward to finding out more about that back story.
Could we bring Judge Bayles back again for future episodes? It was nice to have a judge willing to smack down both sides when they got out of line, looking equal parts beleaguered and amused while she did it. 
Elsewhere, Pindar has grown on me since the first episode. When Karp explained that he "relaxed himself" during the sleep study, it was Pindar's pause before he got the metaphor that made it funny.
Add the "I'm more of a Mac guy" line and the "I Only Look Illegal" t-shirt and again and I couldn't stop smiling.

Overall, this show is starting to hit its stride. The cast has always been charming, but they're really starting to gel and the stories have gotten better. What I enjoy the most is that when I'm watching Franklin & Bash, whether the story is funny or outright ridiculous, the smile doesn't leave my face.
C. Orlando is a TV Fanatic Staff Writer. Follow her on Twitter.