The best scenes in Men of a Certain Age come when the three leads - Ray Romano, Scott Bakula, and Andre Braugher - get to interact with each other. While"The Great Escape" didn't give us a lot of that, the final moments with Terry and Owen listening to Joe's story in the diner was exactly what this show is all about.
It's three guys working their way through life at that "Certain Age" and having a couple of friends with whom to do it. As is the case most days, all three of had some heavy stuff going on, and it was really nice to see Joe's friends be there for him in the end.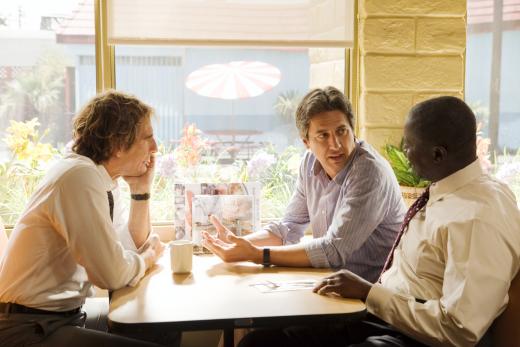 As the title states, there was a lot of escaping going on. Owen is potentially escaping from the iron fist of his father, Terry escaped from what turned out to be a sham of a relationship, and Joe narrowly escaped making things extremely confusing between him and his ex-wife.
Romano is what has kept me loving this show, and that didn't change with his performance here. Between his inability to figure out what he wanted to do with the Sonia situation and his ability to help quasi-friend Manfro through his trying times with cancer, Joe was once again a joy to watch.
And, as always, Manfro made up most of the laugh out loud moments. Whether it was making up Italian words, making "last dinner" jokes, or having serious conversations with strippers, he really had it going comically.
Elsewhere, Owen's professional rise has been a joy to watch. And now that he has decided to do what he wants, taking no crap from Daddy Thoreau, it may get even better.
With all the talk of the Scarpulas over the past season and a half, I'm glad one finally stopped by Thoreau Chevrolet. He was every bit as grimy as I expected, but in offering to buy out the dealership, he provided plenty of enjoyment to the viewers. Owen staying up all night trying out all of his wife's new products was extremely fun. It is always a joy to see big, scary Braugher doing silly things like vacuuming.
And finally we get to Terry, who remains the one character that is difficult to get behind. Maybe it is because he is all over the place in life, or maybe because Bakula plays him so fidgety all the time, but I had to convince myself that Erin was too good for Terry early on.
Boy was I wrong. Terry was in this thing for the right reasons, and much to all of our dismay, Erin was not. I did not see that coming; at no point did it seem like she thought what they had going was a fling. Then again, maybe the show was just doing a good job at only portraying her through Terry's eyes. He DEFINITELY didn't think she thought it was just a fling.
In the end, I felt really bad for how it all worked out for Terry, and maybe this will make it easier to sympathize with him moving forward. And kudos to him for allowing Joe to expound on his past couple of days first when the three guys got together at the diner.
They all escaped, but did they all want to escape? What did you think of the premiere? And how glad are you to have these three goof balls back in your lives?
Dan Forcella is a TV Fanatic Staff Writer. Follow him on Twitter.