Necessary Roughness Set Visit: Marc Blucas on Dating, Sports and Tim Duncan
Matt Richenthal at .
Marc Blucas is a really nice actor, with a refreshing perspective on the business and an easy-going, approachable personality.
Just don't tell him Duke is better than Wake Forest.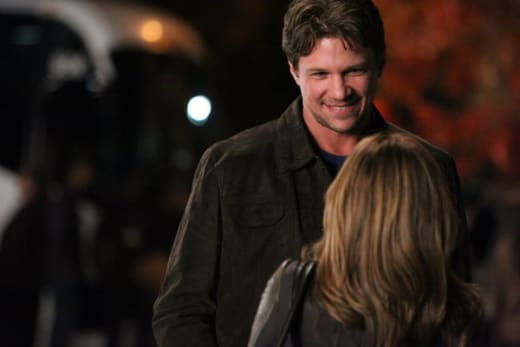 A certain critic joked about this topic during a recent visit to the set of Necessary Roughness - the new USA series that premieres on June 29 and features Blucas as the trainer of the fictional New York Hawks - and received a death stare from the former shooting guard, who started alongside Tim Duncan in the early 90s.
Fortunately, Blucas was kidding around (I think, go Demon Deacons!) and spent the rest of the interview excitedly talking about his role as Matthew.
On his character's relationship with Callie Thorne's Dani
: "I want them to be two people that have fun, that just enjoy each other. I don't want to be the guy trying too hard to be charming. I don't think either of these characters are in that life place. They know who they are, they're comfortable in that lane and suddenly, it's just like hey, that works and we both take each other off guard.
On the ups and downs ahead: "Good relationships on TV are boring... The roller coaster ride is going to be there and what's more fun than interjecting some exes and people who through in the jealousy card?"
On how this role suits him: "This is the role that's been closest to me. The writers are writing it more towards who I am... I've been in this world*, I know it. I think that they are making him sarcastic and they're giving him some colors that I really like.
* Blucas played four years at Wake Forest and one year professionally in Europe.
On whether Duncan will ever guest star: He would do it. We're hoping. I'm going to hold this over the network and say I can get the entire team here for group therapy if I direct that episode.
For more from my set visit, check out this diary and this interview with creator Craig Shapiro.
Matt Richenthal is the Editor in Chief of TV Fanatic. Follow him on Twitter and on Google+.