"Navigating these beautiful caves is like navigating a relationship." - Ames
Last week, The Bachelorette delivered an all-time episode. This week, in the aftermath of Bentley's mind games and exit, things couldn't help but feel slightly dull.
If you're a fan of the show, you eat up lines like the one quoted above. At the same time, there wasn't a whole lot to write home about in this week's installment.
The group date did involve the guys helping out orphans in Thailand, which was nice to see, and a couple of the men did step up to properly woo Ashley Hebert.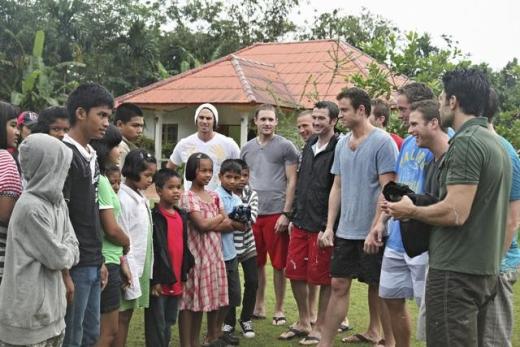 The Bachelorette cast lends a hand to kids orphaned by the tsunami.
Just the same, there was simply too much whining about Bentley on her part, and the notion that ABC is flying the dude back in the coming weeks is just off-putting.
It's The Bachelorette, though, and we love it in spite of these drawbacks. There were plenty of memorable moments even if the episode overall wasn't the greatest.
So who got the chop and who emerged as frontrunners Monday?
Follow this link for a full The Bachelorette recap at THG!
Steve Marsi is the Managing Editor of TV Fanatic. Follow him on Google+ or email him here.