JoJo Fletcher is ready to write her own happy ending.
ABC has released the first official trailer for The Bachelorette Season 12 and it begins by taking us back through JoJo's bumpy road on The Bachelor.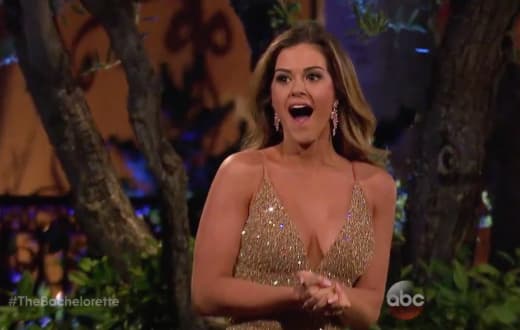 Below, we see footage of the real estate developer's ill-fated journey with Ben Higgins, who broke her heart into a million pieces on the March finale after previously telling Fletcher that he was in love with her.
Shortly after viewers witnessed Ben's marriage proposal to Lauren Bushnell, however, host Chris Harrison announced during the After the Final Rose special that Fletcher would be the latest Bachelorette.
And viewers have been celebrating ever since.
"I'm officially the new Bachelorette," the 25-year old beauty declares in the footage. "Bring on the men!"
There aren't that many The Bachelorette spoilers in the trailer, but we can confirm that one suitor arrives to meet his potential match on a unicorn.
Yes, a unicorn.
The preview is set to Demi Lovato's "Confident" ad it gives us quick glimpses at the assortment of hunks. It's never too soon to pick a favorite, right?
The Bachelorette season 12 premieres on Monday, May 23, at 8/7c on ABC.
If you ever miss an episode, you can always visit TV Fanatic and watch The Bachelorette online.
We make it quick and easy to do so.
In the meantime, however, get excited for JoJo's upcoming fairy tale by checking out the trailer right here and now: