Falling Skies slowed things down a bit this week.
Not every episode can feature a major battle between the survivors and the aliens, for both production reasons and storyline reasons. The show wouldn't last half a season if that were the case.
But Falling Skies has done a strong enough job building up characters that "Grace" felt like more than filler.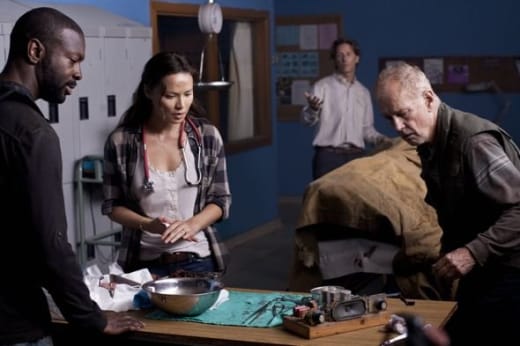 I was fully invested in the fate of Mike's son, in Hal's guilt and in the way Anne argued with Dr. Harris. And while the motorcycle excursion felt like a waste at first, it revealed an enemy far more dangerous than the Skitters and the Mechs:
Children.
Tom may have been steadfast in his order that we're "not shooting kids," and the team may have found a way to escape. But what if they face this situation again? What if it's kill or be killed? It might not be so easy for Tom to bark out such an order.
The character of Lourdes, meanwhile, seems contrived at this point. All she does is pray and all anyone talks to her about is faith? But she did lead a nice scene to close out the hour.
In order to be invested in the show, we need to be invested in these characters. Therefore, it's important to take time and focus on their journey, struggle and bond, as we saw when they sat around and ate dinner. Not many other programs of this nature would have been content to conclude an episode in such a quiet manner.
Questions raised on "Grace" include:
Is there any hope for harnessed kids?
What does the connection between Skitters and airwaves mean?
Will Harris ever stop being a jerk?
Matt Richenthal is the Editor in Chief of TV Fanatic. Follow him on Twitter and on Google+.