If you were dying what would be on your bucket list?
If you were "litigious scumbag billionaire" Carter Lang, it would include screwing over a former coworker but making it look as though you were doing it to pay back funds to the shareholders you bilked out of millions.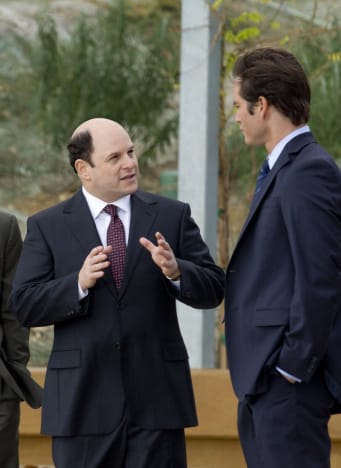 Jason Alexander was the latest guest star on Franklin & Bash and he was the perfect fit as the "Big Fish," Lang.
I had to wonder about Lang's true intent when he kept shelling out millions in bail money just to mess with his former co-worker. Couldn't the shareholders he claimed to care about use that cash? Of course, Lang had payback of a different type in mind.
When he found out he was misdiagnosed and wasn't really dying, he immediately went back to his roots. He was more than willing to screw over the little guy yet again and take his lawyers down with him if he had to.
Bash wasn't kidding when he quipped, "You know, I liked you a lot better when you were dying." Any guy who has a cash bar at the company Christmas party but gives himself a 400% raise really is that sleazy. 
Franklin and Bash walked the ethical line here, as, for once, they had a client they didn't like. They wanted to lose. Instead, they creatively blackmailed Carter into doing the right thing, despite himself. 
You had to expect some creativity from guys who posted toe nail art on their refrigerator. Who would make art out of toe nail clippings? Eww. I suppose it's expected from the same gents who gave their coworker sexting advice yet still made you believe they were looking out for her.
One of the best things about this show is that the friendship between the two leads is completely believable. There's such chemistry there. It's what keeps me tuning in week in and week out. Now, I'd love to see a love interest come in to shake it up. As we get to the halfway mark of the season, what do you hope to see from the rest of Franklin & Bash?
C. Orlando is a TV Fanatic Staff Writer. Follow her on Twitter.