Dwight revealed what emotions he was harboring about his father's murder and the reason behind it in "The Things We Carry."
The arson of a popular and historical theatre had the MPD regaling each other of their childhood memories of the place. Dwight's no doubt included an Elvis movie he'd seen with his father, a memory that coincided with the news that the man who killed his dad was up for compassionate release.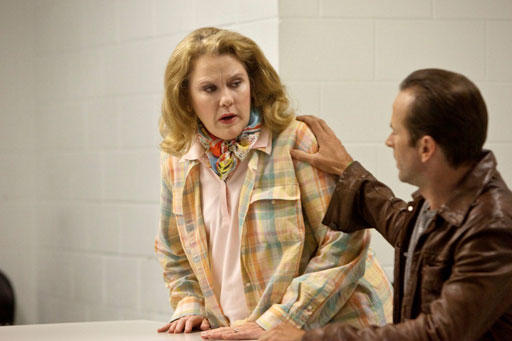 The revelation lead to a mother-son road trip to Angola in Louisiana, placing the spotlight on not only the case, but another historical hotspot down south. It was an interesting backdrop for what was quite the emotional ride.
What I really appreciated about this episode was Dwight's struggle with his father's memory, especially when it was discovered that his mother might have been aware of the money all along. Does the fact he didn't spend it devoid it of all unsavory ties, or does it still leave the receiver's hands dirty?
Dwight seemed to realize that he had spent more time worrying about the circumstances surrounding his father's death than celebrating the life and memories he left behind, an important message to all about what to value in life.
In the meantime, the comic relief of the week was left to the unlikely partnership of White and Rice.
These two seem to constantly challenge one another, making them a truly fun pair to watch when we get the chance. They never let an opportunity to test one another pass, and this was no exception. I loved getting Lt. Rice out of the office and onto the front lines, and I appreciate the heightened effort to do so this season.
The music was especially heartfelt and appropriate. The Blind Boys of Alabama's "I Shall Not Walk Alone" was the perfect background to Dwight's walk out of Angola and his disposal of the cut money, and, with it, all the ties to Tim Mason. It definitely signaled an appropriate start to this new phase in Dwight's development.
I'm intrigued to see what happens for Dwight now. It always seemed that his moonlighting at the club was a way to deal with the pain of losing his father. It's his escape. But now that his father's case has, in a lot of ways, been laid to rest, what will it mean for his performances there?
I hope it means more duets, as this week's club scene was fun, lively and signaled some sort of shift that I can't quite put words to. You just felt it. All I know is I'll be watching to see where the MPD takes us week after week as the season continues.
What did you think of this week's episode? Think this will be the last of Dwight's father's murder? Do you want it to be?
C. Charles is a TV Fanatic Staff Writer. Follow her on Twitter.