Rescue Me Season Premiere Review: New Beginnings

Sean McKenna at .
Tommy Gavin is a changed man. For now.
His on-again/off-again roller coaster ride of alcoholic adversity, strings-attached relationships, and invariably destructive selfish behavior has managed to hit a relatively normal path. He has become the newly redeveloped family man for pregnant Janet, his children, Sheila, and her paralyzed and brain-damaged son, Damien.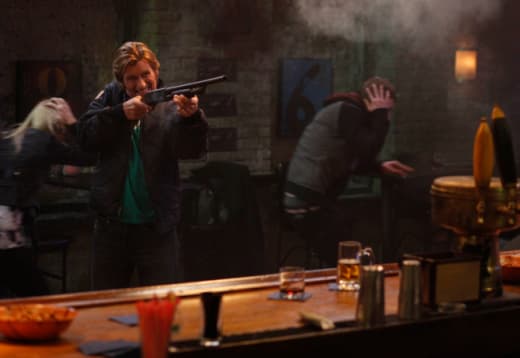 Tommy's own inner demons of guilt, fear and frustration have managed to get in the way of him showing any real care and concern in the past. And they haven't completely left, either. Damien walking around with a knife? More like Tommy's guilt of convincing Damien to remain a firefighter. Despite moments like that, Tommy has become a dutiful and doting husband, father, godfather and friend. It's a nice change.
Maybe he can be more than just a walking hard on with a fire helmet.
It would be nice to see Tommy end the series on a high note, as a man who overcame his dark struggles. He's attempting to do so, especially when it comes to visions of his dead relatives.
I always enjoy the cameos of past characters, especially because they offer a sample of Tommy's struggle and psyche. He often succumbs to their speeches and gladly joins in their drinking. It was a pleasant surprise that he spit out his drink when they raised their glasses to him. Good for you, Tommy.
That being said, the Tommy that viewers have known for the past six seasons is still resting within. The horrors of 9/11 have continued to haunt him and they probably will the rest of his life. It's not something he can simply "get over."
Sure, Janet and Sheila found a way to be giggling, gossiping friends, but Tommy's problems stem from a more complicated place. Still, really, Shelia and Janet? Friends? It's just too unnatural.
Even Shawn's proposal to Colleen (finally!) was a great moment that had a tragic outcome. Collen must not have been able to handle the excitement and went straight back to the bottle. Alcoholism is a difficult disease. I hope it doesn't ruin their relationship.
But how could anything go wrong when she works in a bar? I guess it only makes sense that the Gavin family owns a bar with workers who are recovering alcoholics that have group meetings in the bar after closing. It just seemed so right. Not.
It was great to see Tommy make a statement about the whole drinking situation. Shooting up the bar? Fitting and classic. Not only because he was shot there last season, but also because he was taking control of his daughter's drinking problem.
One thing the episode, "Mutha," felt lacking was more group firefighter time. I recognize that the focus was on Tommy and his changes, but I missed the crew getting together for multiple scenes. Those comedic and off the wall conversations make for great laughs. At least viewers got some insight on Jersey Shore, Flavor Flav and Mike's haircut.
The writing continues to be top notch, blending drama and humor in a way that feels true to life, even if some situations are over-exaggerations. It's a testament to the creative stories and characters that appear week after week.
And with the tenth anniversary of 9/11 just around the corner, the emotions and repercussions that have plagued many of the firefighters are bound to bubble to the surface once again. How will Tommy handle it? How will they all handle it? It's certainly something never to forget.
Sean McKenna was a TV Fanatic Staff Writer. He retired in May of 2017. Follow him on Twitter.