Jill began recovering from her accident and Boris became suspicious this week, all while Eddie R. struggled to save his friend Shaw and Hank and Evan became acquainted with "A Man Called Grandpa."
Yes, it was a busy week on Royal Pains.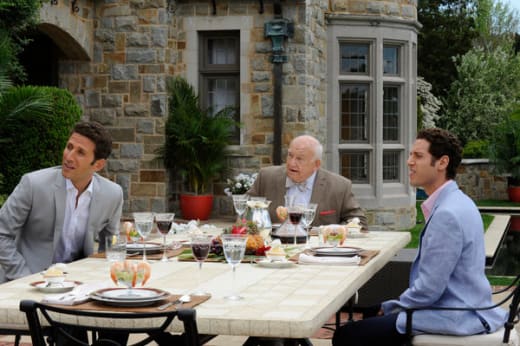 The episode was filled with dramatic moments that will make an impact going forward.
Now that Eddie R. is officially out of prison, he's free to return to the Hamptons and his girlfriend, Mrs. Newburgh. It does make me wonder, though, what he will be up to now that he's gone straight. How do you keep a con man from wanting to con again? Will he get a real job in the Hamptons, or will he live off his dear old dad?
One thing's for sure: his relationship Shaw demonstrates how much growth Eddie R. really has undergone. It all seemed a direct response to the mistake he made all those years ago when he walked out on his boys and ailing wife. As he admitted to Hank, it was a true regret. The effort put into Shaw's recovery was a direct response to that experience.
I think Eddie R. is well on his way to redemption, and his return to the Hamptons will be a welcome one.
As for Hank and Evan building a relationship with their grandfather, the Lawson family album was an insightful, though not fully unexpected, look into the family tree. I couldn't have been less surprised to find a doctor and a businessman in their lineage, but the boys seemed rather pleased by the discovery. Who couldn't appreciate their happiness?
Evan's trip to the races was a fun addition to the episode, and I loved the story Evan told about his mother and Star Wars. We don't hear much about Hank and Evan's childhood, so those little tidbits are precious.
The biggest development, though, was Jill's accident and the flashlights and smell of cigarette smoke she remembered. Boris became immediately suspicious when hearing this, didn't he?
For a minute, I thought it was because he might have been involved, but now I am wondering if it doesn't have something to do with the fact Boris warned there would be people in the family unwilling to accept a new heir to his empire. Could someone have really been so heartless as to go after the baby's cord blood?
All I know is that this story is far from over, and every week will uncover more and more little tidbits until the truth finally comes out.
C. Charles is a TV Fanatic Staff Writer. Follow her on Twitter.