"Jenna Lives" was a little more subdued in terms of character progression.
That doesn't mean the comedy wasn't there. Jenna's guide to just how much of a loser someone can be by how they're dropped off at school was gut-busting. As was watching Kevin and Lacey's "unified front" punishment scheme turn into an argument between the two of them.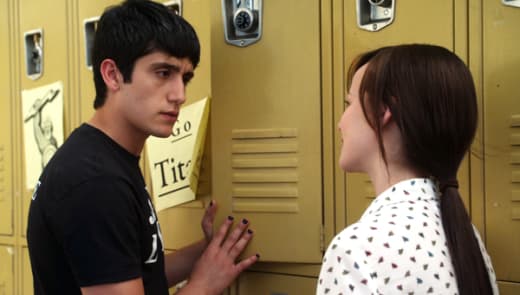 I would love a flashback episode with Kevin and Lacey. Actually, I would take an episode with the two of them just being themselves for thirty minutes. I can't get enough of them.
The kiss between Jake and Jenna happened quickly. The signs were there of course, the typical "I have this friend" conversation that Jake mistakenly thought was about him. It's exciting thinking about the opportunities this potential love triangle will bring. After all, Jenna still has feelings for Matty, Jake has a girlfriend, and Matty and Jake are best friends.
The rest of "Jenna Lives" was dedicated to Jenna pining over Matty and what he had going on with Jenna Plus, Olivia. While it was fun watching Jenna and Matty work towards something, I wish Jenna wouldn't put so much stock in it. I'm sure she has other interests and goals and I would love to learn more about them.
Overall, the progression with Jake and Jenna and the hilarity between Lacey and Kevin produced another solid episode of Awkward and I can't wait for next week. Other thoughts:
I actually really liked Valerie in this episode and I didn't miss Sadie one bit.
I need more of Tamara. I didn't get a big enough fix this episode.
I hope Kyle becomes "The Observer" for Awkward. Standing creepily in the background every week.