"Queen Bee-atches" was all about power plays: Jenna vs. Sadie, Matty vs. Jake, and Lacey vs. normalcy.
It was wonderful to finally see Jenna stand up for herself with Sadie, complete with a complimentary mocking of "you're welcome." For too long Jenna hasn't been willing go after Sadie. It was disappointing to see Jenna give the food journal back because it lessens the amount of leverage she has over her rival.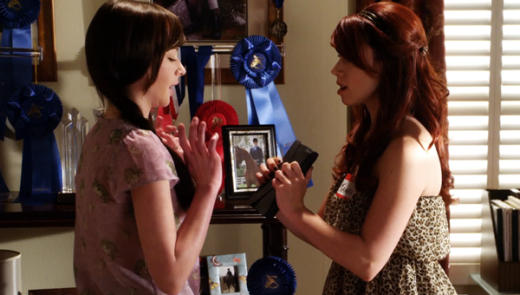 But how much of the status quo was really altered between Jenna and Sadie? Will Sadie all of sudden have a change of heart? Probably not. Will Jenna stand up for herself against Sadie more often? Again, probably not. The only thing that has changed is Sadie didn't write the letter.

Elsewhere, Matty and Jake were fighting for Jenna's attention... well Matty was, Jake was just trying to process what his next move should be. Kudos to Jenna for realizing that not one person has all the power in a relationship, it's about time Matty does some of the chasing and questioning between the two of them. Either Matty has a relationship with Jenna or doesn't, but he has to stop stringing her along.
Lacey was trying to rise above her suburban housewife normalcy by getting in with the Knick-Knackers. This is a theme on which Awkard always has a great grasp. No matter how old we get, no matter how comfortable we try to be with ourselves, we're all looking for some kind of acceptance with our peers.
Overall, "Queen Bee-Atches" was the best yet for Awkward. My only wish was for more blackmail.
Other thoughts:
What exactly was Valerie eating?
I'm still juvenile enough to thoroughly enjoy bleeped f---s.
I'm running out of guesses for who wrote the letter.