"The Scarlet Eye" finally shed some light on Jenna's parents and her friend Ming.
I haven't loved adults in a teen show this much since The OC left the airwaves. Kevin and Lacey were absolutely hysterical. While Lacey was still Lacey, it was great to finally see Kevin in a more active role.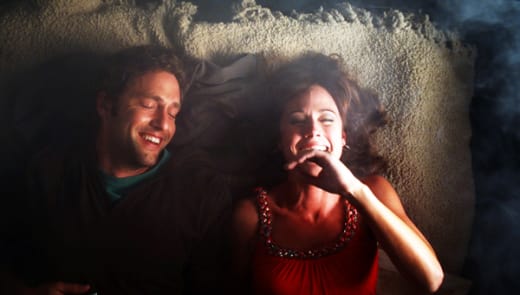 It was absolutely hysterical watching the two of them get high in the back seat of their car and then drive Jenna and Matty home. Seeing them attempt to be responsible, normal parents was great. Plus, Lacey had a serious case of the munchies. I was cracking up seeing her scarf down those nachos.

It was refreshing to finally see Ming and watch some of her personality come to the surface. She is nothing like Tamara. I was happy to see her offer a different perspective. She wasn't interested in Jenna flying up the ranks of popularity. She was much more interested in making sure her friend wasn't taken advantage of, to make sure things were moving along at Jenna's pace, not Matty's.

Not to mention the second hand embarrassment that was Ming's mom pulling up to the bonfire after tracking her down with the GPS on her phone. I've had the unfortunate pleasure of seeing that first hand with some friends. It was always uncomfortable... and funny.
I was a bit disheartened that Jenna said she was okay with not being in a relationship with Matty. She just wanted to be friends with benefits. Speaking of Matty, the speech he was giving Jenna didn't feel like he was talking about her. It sounded like most of it was for him. Matty's afraid to be what he wants to be with Jenna because he cares what other people think of him.

Overall, "The Scarlet Eye" was another great episode of Awkward.

Other thoughts:
I will never be able to un-hear "do all boners look like weapons?"
Was anyone else hoping that it was Jenna's parents, not Valerie and the English teacher, by the dumpster?
I loved watching Tamara enact a little bit of revenge on Sadie.