Looks like there's trouble brewing for Vincent "Don't Hate Me Because I'm Beautiful" Chase.
Nah, not really. He's just unhappy because the Vanity Fair story was completed and apparently Sophia struck a nerve. I mean, all she did was tell the world he's as deep as a puddle - correction: an insecure, womanizing puddle - and he freaks out. What's wrong with that? I'll tell you what's wrong with that, Sophia. Nobody messes with our Vince!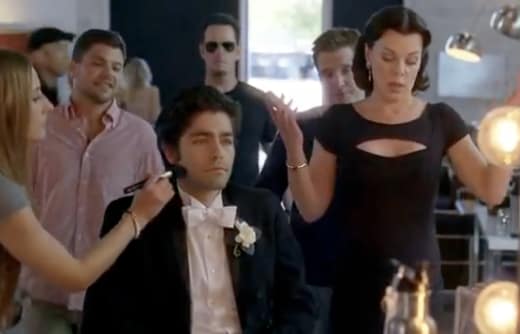 You basically called him stupid to his face. Then, you tried to use your fancy accent and your sophisticated finance-y words to distract him from it. It was the old "Look Over There It's My Super Important Brilliant New Interviewee... And Something Shiny, Look!" move. It's the oldest trick in the book. Well, we're not buying it, Sophia, and now you've gone and given him a complex about it. Nice job.
In truth, she's probably not wrong that Vince isn't exactly the hard-hitting relationship type, but that doesn't mean he's not capable of one. It also doesn't give her permission to mock him about it to his face, that's cold. At least he'll look good on the cover of the magazine, though - the man can rock a tuxedo.
Elsewhere on "The Big Bang" Ari had it out with Bobby Flay... again. Is it me or was that the first time they've ever revealed Mrs. Ari's real name? When he called her "Melissa," I almost dropped the remote. It's been so secretive for so long that I thought for sure it'd end up being something more exotic, like Shakira. Or Beyonce.
Ari better start calling in favors, or set up a lemonade stand - pronto - or else he may lose his company. On the one hand, I'd like to see his wife show a shred of decency and not try to destroy him financially. But on the other hand, I'd like to see him get creative with bailing himself out. It would've been amazing if Beverly D'Angelo's character had been the one to give him the cash, but maybe I'm just partial to her because I have a soft spot for National Lampoon's movies. Either way, let's see less of Mrs. Ari and her "barbecuing boy toy" and more of Dana Gordon. I like Ari too much to see him so sad every week.
In other news, if Scott knows what's good for him, he'll heed Eric's threat and drop Johnny Galecki as a client (it would help if E were a little more intimidating in stature, but still...) Not that having him off the roster will keep Sloan from finding out E boldly went where HER FATHER has gone before, but at least it'll prove a point. Then we'll really see who's the bigger man in Hollywood.
My money's on E because it's been years since Galecki bedded Darlene Conner, and does anybody even really watch The Big Bang Theory anyway? Didn't think so. I can't lie, though, I'm pretty excited to see what happens when Sloan finds out about Melinda Clarke. I think she could take E in a fight if it came down to it, and it might.
As for the Turtle story line, I think it's Doug Ellin's way of fitting in as many celebrity cameos as possible this season, which is kind of cheap, but mostly awesome (if a little gratuitous at times). Amar'e Stoudemire and Mark Teixeira will be making appearances down the line, for example. Not that David Spade doesn't cut it, but the more big clams Don Peppe's brings onto the screen the better! Also, Turtle's really cute when he gets excited about something, so I hope the restaurant takes off.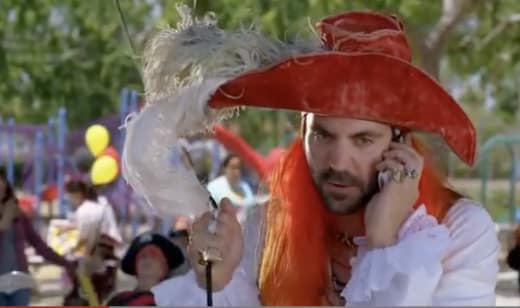 Finally, we have Johnny Drama and his motley crew of supporters. It's no secret that I'm not Dice's biggest fan, but I have to hand it to him for going with his gut and getting himself and Drama the compensation they deserve. I guess this means Billy can afford to put maple syrup on his table now (nice touch using his kids for sympathy, by the way) and also that Dice can afford a nicer apartment. Which he should buy immediately.
If all goes well for Drama, he could be back in the television limelight again soon. We're all rooting for you, Drama. We're also alll (or at least I am) rooting for Lloyd to put in a little more face time. I was pleasantly surprised to see him in the fold again this week, but I won't be totally fulfilled until the man gets a spin off of his own.
I'm sure we won't get to the point in the plot where Vince films Airwalkers before the end of this series, but perhaps we can see the following: Lloyd conquer the television management world, E reunite with Sloan (or kill each other, whichever comes first), Ari find love again (Team Dana!), Drama's series take off, Billy wear a pirate costume again (pretty please, it was awesome), and Turtle become LA's foremost culinary entrepreneur.
But really, I'd settle for Lloyd getting his own series. Just saying.