Necessary Roughness sent Laura and Laz packing and TK back to Dani this week. Best of all, "Forget Me Not" finally delivered a patient of the week story I enjoyed.
I liked Tallis. The tough chick with the knock out punch was being terrorized by an event that took place when she was three. It was a shame that it took her mom so long to fill in the blanks for her, but I suppose I could understand wanting to keep her abusive relationship in the past. Unfortunately, you can't outrun such a thing. You can only face it down.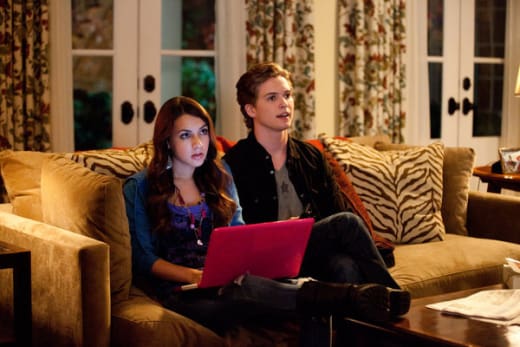 Dani's kids turned into amateur stalkers on the installment, as Lindsey bet her brother that JD was more than mom's friend. Lindsey won. Yippee. The poor girl looked like she'd have preferred to pay up. Do these kids know that their father was a chronic cheater? Even so, it's still hard to watch your parents move on.
As for JD, I still didn't like him. He's writing a book on monkey sex? Seriously? That's not a selling point. JD was just this side of sleazy and I'll be happy when he follows Laura out the door.
Speaking of Laura, I'm sure she felt as though she was helping Matt's career and their relationship, but all Matt felt was manipulated. I didn't love Laura, I didn't hate her. She just seemed to take up space and had little chemistry with Matt.
Of course, Laura did manage to keep Matt and Dani apart long enough for Dani to find JD and, for that, I like her even less.
Elsewhere, TK finally saw the light when Laz drop kicked his childhood idol to the curb when he couldn't pay his bill. It took him long enough, but at least when he witnessed Laz's true colors he called him on it:
You know what's unattractive? A parasite with fresh blood on his face. | permalink
And so Nico escorted TK back to Dani's doorstep. Does anyone on this team understand office hours? I hope she charges them extra for all of the late night visits.
My only complaint was that I wanted more of Nico... but I could say that almost every week. I've got my fingers crossed for next time.
C. Orlando is a TV Fanatic Staff Writer. Follow her on Twitter.