So, Jenna and Garrett are killers... a shovel was used to murder Alison... Dr. Sullivan was never in danger... and Jason found something in his family's house that has Mr. Hastings very concerned.
All of these developments and more went down on the Pretty Little Liars midseason finale. With the show on hiatus until January, creator Marlene King is here to offers fans a few teases. What can we expect in 2012? For starters...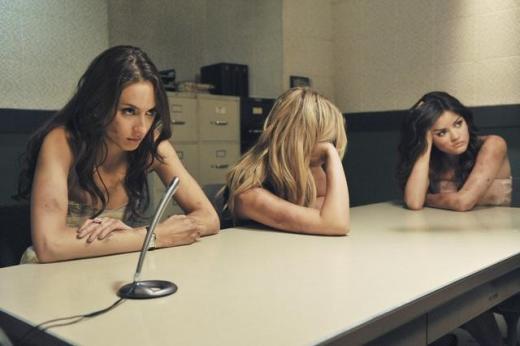 ... we'll actually see the girls before then. ABC Family will air a special Halloween episode titled "The First Secret." It will take us back to when Alison was alive, Melissa will actually appear on it and King tells TV Guide it's the "scariest" hour of the series yet.
... the shovel
really is the murder weapon
. Says King: "The field hockey stick was a red herring. Alison was buried alive, she died of suffocation, but that's what was used to bash her skull in.
... Mike is NOT A.
... Jenna and Garrett may not have killed Alison. King crypically tells TV Line: "That's what out there. Whether that's going to be true or not, we're still going to have some twists and turns... Some things you think you know will still be refuted and challenged by information you get in Season 2B."
... the winter premiere will pick up about a month after events on this episode, with the girls taking part in community service and no formal charges having been levied against them. Yet.
With four months until new episodes, what will fans possibly do? Discuss it all in our Pretty Little Liars forum of course!