What did a sniper who can't aim, a sick parakeet and a dreaded visit from Mom have in common? They were all featured in the latest episode of Rizzoli & Isles, of course. 
"Rebel Without a Pause" gave us all of the above and more in one of the most entertaining episodes of the season.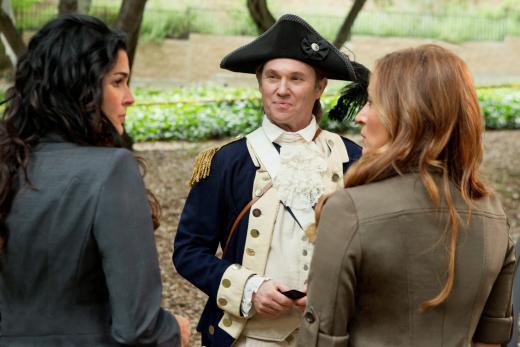 A murder at a Revolutionary War re-enactment ended up being a great excuse to have our dynamic duo dress up in period costumes. Although Maura looked lovely, Jane moved like a truck driver in her gown. Unfortunately, it's difficult to look graceful while dodging bullets and chasing down suspects in 18th century petticoats.
Elsewhere:
Awww
. Korsak's little sick parakeet was adorable, but how long did Maura walk around with a dead bird in her pocket? I guess she deals with dead people all day, what's a dead bird? No big deal.
Oh no! John Boy was a rapist? Yes, that was Richard Thomas in the role of the sleazy professor and every time I looked at him I still saw John Boy from The Waltons. Some roles you just can't shake, no matter how many villains you play.
I enjoyed the sniper with the lousy aim storyline mostly because the detectives did a great job of joining together to solve it. It was all such a team effort and their chemistry gets better every week.
I knew the moment Kathleen confessed that Ben was her son and he tried to kill Kravitz. The scene with Ben in the classroom with the gun felt a little weak, probably because we didn't get to know Ben sooner and all the professor did was stand there. On the upside, the take down of the murderer didn't take much time away from my favorite storyline, the introduction of Maura's mom.
I wanted to cry for poor Maura when her mother left before dessert and decided to stay at The Ritz instead of with her. The look on Maura's face was heartbreaking. Add to it that she's lived with Angela, and knows how involved she is with Jane, and her own mother's detachment must have seemed even more glaring.
I wasn't surprised at all that Jane stood by Maura and went to the art show, but I didn't think she'd be quite so blunt with Maura's mom. Not everyone would step up for a friend like that and it really spoke to how close these two have become. Jane won't just sit back and watch someone hurt Maura, even it's her own mother.
I wasn't expecting Mom to make such an effort, but it was great to see them trying to bond over burgers and peanuts. Now, does anyone want to try out that beer milkshake?
C. Orlando is a TV Fanatic Staff Writer. Follow her on Twitter.